My big news this week is that book number 3 in the Surplus Girls series, Christmas with the Surplus Girls, is now on Netgalley, so if you're a Netgalley reader who loves sagas, I hope you'll consider asking to read it, especially if you've already enjoyed The Surplus Girls and The Surplus Girls' Orphans.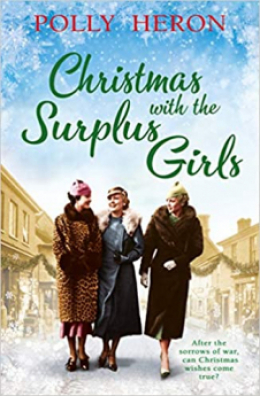 One reviewer says: "Such a joy to read.... This series is turning into a remarkable collection."
Here's the link to Netgalley - Christmas with the Surplus Girls
... and here's the blurb:

After the sorrows of war, can Christmas wishes come true?
Manchester, 1922. Nancy Pike is out of her depth. A pupil at the Miss Heskeths' school for surplus girls, she's blundering through her lessons and her job placements. She never wanted to leave her beloved pie-shop job, but she knows she needs to better herself. Her only joy is getting to know the children at St Anthony's orphanage. And working for Mr Zachary Milner twice a week.
Zachary's new business is off to a flying start. Alone in the world since the death of his brother, he's determined to do well for the both of them. And Nancy's presence has brought a little sunshine back into his life. But when she makes a terrible mistake that puts his livelihood in jeopardy, he has no choice but to let her go.
As Nancy struggles to find a way to make it up to him, she must also try to make this Christmas the best the orphans have ever seen - or risk losing yet another chance to help her family. As she battles the prejudices around her, and her own fear, can she bring a little Christmas cheer to the orphanage, and maybe even to Zachary Milner?