Today I am delighted to welcome Kitty Wilson back to my blog. Here she is cutting the book-cake on a publication day when, with other friends, we were on holiday - oops, sorry, I mean when we were ona writing retreat in Bath.

Today Kitty is here to chat about her latest novel, Every Day in December.
Kitty, many congratulations on signing with One More Chapter. Can you tell us how that came about?
Thank you, I feel that I've landed on my feet with One More Chapter and am really enjoying writing for them. I was really lucky in the way in which it came about. My very first editor, the one who was responsible for picking up the Cornish Village School books, had moved publisher and she and my agent discussed me joining her. I really wanted to write Every Day In December so I pitched that and she signed me up for that and one more stand alone romcom. I was absolutely over the moon.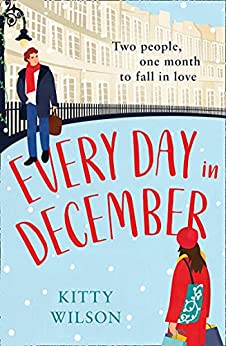 When you and your agent were discussing your book contract with One More Chapter, what was it like keeping the secret from everyone?
It was so hard, I was madly excited because One More Chapter have such a great reputation and are part of the Harper Collins family so it was a great next step for my career and – on a slightly more shallow level - they hold the best parties. I had signed the contract back in October 2019 so knew I couldn't say anything for ages and I still had one more Cornish Village School book to write. Whilst we were discussing it, I was as quiet as a mouse but the minute I signed I did squeal a lot at my family and very close friends but stayed schtum everywhere else. I thought I had outed myself though because early in 2020 I went to a OMC party in London and obviously the photos went up on social media but I got away with it. The hardest part was seeing lots of my friends making announcements and I wanted to jump up and down and squeak 'me too, me too, I'm going to be there with you!' but had to restrict myself to a much tamer - but entirely genuine - congratulations message instead.
h
Whose idea was it to write a Christmas story?
I love writing Christmas so it was my idea. In fact, I was so keen to write this Christmas story I was prepared to do it on spec. Belle was a character who has sat with me for a while and I couldn't find a place for her in the Cornish Village School series and wanted her to have a book of her own. I also really wanted to write a Christmas book with each chapter representing one day in the month and the two seemed like a natural pairing. Although my one chapter per day idea definitely had flaws come execution, I hadn't considered how tricky it was going to be to condense a whole day's action into one chapter.

For your new book, you've left Cornwall behind (the location for your previous five books) and moved the story to Bristol. It's easy to understand why Cornwall is such a wonderful setting for a book. Tell us how Bristol inspired you.
I was so happy living in Cornwall and it was the natural setting for my first books but I moved to Bristol soon after the first book came out and I have always had a huge soft spot for this city. Bristol is so alive, colourful and vibrant and yet somehow manages to combine that with a real laid-back vibe. It appeals to all parts of my personality and I defy anyone not to find something that suits them here. The area in which I live has a really strong community ethos and I loved weaving elements of that through. I lived here as a student and was so happy that many things I like about this city were still very much present. Knowing about this book before I began to actually write it meant I was lucky enough to be able to drag my partner across Bristol on lots of Christmas themed activities in 2019 before we all had to lockdown. So pretty much all the activities that Belle and Rory did around and about in the city, my partner and I also did. He has sat through Dickensian improv on SS Brunel – although the filthy jokes are all mine, I'm afraid - and we also did the Christmassy activities at Tyntesfield. The exception is the horse ride which I did by myself. Having booked my ticket, I faced some very odd looks when I arrived and had to explain that yes, it was just one ticket for me. Once I got to the horse and the carriage I realised it was aimed at very small children. I did feel a bit of a fool but I channelled four-year-old me and really enjoyed myself.
Introduce us to your new heroine and hero. What faces them at the start of the book?
Belle and Rory are my main characters in this book and whilst I am biased, I really do love them. Belle appears to be a little chaotic but once we scratch the surface, we see there are valid reasons behind this and that she is actually highly disciplined, albeit in her own unique way. Rory seems to be the opposite; he is remarkably controlled and very successful whereas Belle is broke and jobless.
This is the first time I have ever written a prologue, and with the main action of the book taking place over the course of the month I wanted to give some context between the Belle and Rory of five years ago and the ones we meet in the body of the novel. In the prologue, Belle is about to be made a godmother but only on the understanding that she stops her reckless and self-destructive behaviour. As Belle is about to have new life enter hers, Rory has an important life taken from him. By the time we reach the first chapter we see that Belle has settled a little bit, is lost in her love for Shakespeare and is a very hands-on Godmother whereas Rory is flying into the UK after a five-year absence to support his mother, whom he adores, and who is unwell.

How invested do you get in your characters?
I usually get quite invested in my characters but with this book I became a little obsessed. I truly love Belle and Rory and it's almost hard to believe they are characters I have made up rather than living and breathing people I have known my whole life. I always get hugely involved in my supporting cast as well, and really enjoy writing these more minor roles, which I can often make a little more extreme and have really good fun with. I thoroughly enjoyed writing Marsha, Belle's goddaughter in Every Day In December, as well as Alison, Rory's Mum, and Temperance who owns the shop below Belle's flat. When the reviews come in, I get really excited when readers talk about how they felt about the characters I have created. So far, they have said gorgeous things about Belle and Rory, with Temperance and Alison getting special mentions and calls for Marsha to have her very own spin-off!

How do you write? Do you edit as you go... do you have a specific routine...?
I am disciplined about my writing and try to write every day, bar weekends, and make sure I hit my word count. I like to do it as early in the day as I struggle to relax until I have done enough to keep me satisfied. If I haven't hit my word count then I don't allow myself a Saturday or Sunday until it is done.
I tend to have a rough overarching plan as I go, although by the nature of its structure Every Day In December had to be planned a lot more than I would normally. Once my daily word count is done, I like to take some time to plan the next day's words, and although this sounds bizarre, I find this is best done whilst I am sat in water. I think it is because I tend to have a bit of a butterfly mind and will shoot off here, there and everywhere but if I'm in the bath, or the hot tub at my local lido, or even the paddling pool in summer, then all distractions are taken away. I can't just jump up and do a quick chore, I can't get lost on the internet, I have to focus. That way I know exactly what I'm doing when I start afresh the next day. All my family are water-babies, we are happier in the sea than anywhere else but the sea is a bit far away now I'm in Bristol, so this water thing isn't just effective, it's a little bit of a treat as well.
I always aim to do a quick very rough first draft before I edit but this has never really happened. I tend to read through and have a quick edit at the 25k, 50k, and 75k mark. This enables me to remind myself of threads I may have dropped or ones I meant to develop further. Sometimes – and particularly with my current WIP – I know something isn't right or that I have changed direction from my original intention and prefer this new path, in which case I will go back and strip things out and run new threads through. Going back when I'm stuck has a magical way of clarifying my mind and allowing me to go forward quickly again. One day though I shall manage to write a whole first draft without needing to revisit.

How did you cope with writing during lockdown? Some writers dived into their work - others struggled because of the lack of human contact. How was your writing affected?
In writing terms, when lockdown hit I felt very grateful for the recently arrived structural edits on my final Cornish Village School book and knew that I wouldn't have much time to get them done. Somehow the discipline of having a lot of tasks to do and knowing the order in which I had to do them, meant I could bury myself in my work and it gave me a firm structure to my day that most people lost when we were locked down.
On the flip side though, it is hard to be creative when there is no outside stimuli and I have found it quite difficult to generate ideas and be creative as lockdown continued, normally being out and about and interacting with people offers up a wealth of inspiration and I did feel it's lack quite considerably. With this next book, the inability to research effectively is having an impact even as things open up. It is a case of having to write first, research later which doesn't suit the way I like to tackle a book. However, I am remarkably grateful that my family remained well, especially with my daughter working in care, so the odd writing niggle can certainly be tolerated.
* * * *
Blurb:
Two people. One month to fall in love.
Belle Wilde loves December. Yes, she's just lost her job and Christmas is not a good time to find yourself 'financially challenged'. And yes, her parents are still going on about the fact that she really should have it all together by now. But Belle believes that in December, magic can happen.
Rory Walters hates December. Whilst it looks like his life is together, he's still reeling from a winter's night five years ago when his life changed forever. Now back at home, he's certain that this will be yet another Christmas to endure rather than enjoy.
But as midnight on December 31st draws closer, Belle and Rory's time together is coming to an end. With a little help from a Christmas miracle could Belle find the one thing she really wants underneath the mistletoe?