Guest Blogs and Articles:
Reading for Solace is a guest blog I wrote for Maggie James's website:

A while back, Maggie wrote a blog post covering the various reasons why people choose to read fiction. It was a lively and interesting post, but I felt there was one reason missing: reading for solace. So what does that mean? Obviously, it is closely linked to reading for escapism, but it is a specific type of escapist reading.

Solace. According to the Concise OED my parents gave me one Christmas years ago, and which remains my favourite dictionary no matter how many more modern dictionaries have climbed onto the bookcase since, solace is: comfort in distress or discomfort or tedium.

Now I must confess I didn't have tedium in mind when I wrote a reply to Maggie's blog. It was distress I was thinking of.

So what is reading for solace? The best way to explain it is to give you an example. My dad died in his 60s, which came as a brutal shock to the family. Through that first week, I stayed with my mum. Understandably, she had trouble sleeping, but after the first couple of nights, she came downstairs in the morning and showed me a book.

"This stopped me going mad," she said.

Was it a self-help book? A discussion of grief or widowhood? No, it was a novel. The book that had got my mum through the first endless nights was a story.

I wish I could tell you what it was, but I can't. All I can tell you, based on my mum's reading habits, is that it was written by a woman (or by a man using a woman's name) and the plot was set at some point after the building of the railways. I seem to recall it was a contemporary novel, but I couldn't swear to it.
I remember years ago reading an interview with Dick Francis, who described receiving a letter from a man who had lost a companion in a car accident. The accident happened in the middle of nowhere; no other vehicle was involved. The man walked until he found a phone box, then he returned to the car to await help, knowing his companion was dead. Assistance took a couple of hours to arrive and the man started to read a book that had belonged to his late companion – a Dick Francis novel. In the letter he subsequently wrote, he thanked Dick Francis for keeping his mind off a tragic situation.

Another example that comes to mind is linked to the person who introduced me to the phrase "reading for solace" – a former boss of mine, the late Wendy Drewett, who for many years was the head of library services for children and schools in Buckinghamshire. There was nothing Mrs Drewett didn't know about children's and teenagers' books. She knew about authors, reading development, dyslexia, avid readers, reluctant readers... you name it. Above all, she knew about getting the right book to the right child at the right time.

In the course of her career, she worked alongside many families, teachers and schools and it was from her that I first heard the words "reading for solace" in connection with children who live with a chronic condition that means they cannot lead an ordinary physical life. (Maybe there is an element of comfort in tedium here?)

An example of this is the wonderful Rosemary Sutcliff, who suffered from juvenile arthritis from the age of two, which left her wheelchair-bound for the rest of her life. Although she famously didn't learn to read until she was nine (why bother when she had such a gifted storyteller for a mother?), she grew up on a diet of legends, myths and folk tales; and it was these, together with her ability to examine things close to her in minute detail, that occupied her mind and her imagination.

Reading for solace? I don't imagine for one moment that Rosemary Sutcliff thought of it that way, any more than the reader of the Dick Francis novel did at the time – any more than my mother did at the time. I don't think it's something you do consciously. I think it's something that, in certain circumstances, simply happens; and you don't realise until afterwards.

What do you think?

And if the author of the book my mum read is reading this blog – thank you.

* * * *
Using a Real Location. Guest post for Allison & Busby.

h
Article for Romance Matters:
The Romantic Novelists' Association runs a scheme by which unpublished authors can submit their work to be critiqued by a writer who is published in the same genre, eg historical, chick lit, romantic suspense.

Romance Matters, the magazine of the RNA, asked me to contribute to an article about the NWS (New Writers Scheme). Rachel Summerson wrote about being a reader, specifically about reading Jean Fullerton's first NWS submission. Jean wrote about being critiqued and then becoming a reader for the scheme; and I wrote about submitting work to the scheme... and later finding out that Jean was my reader.

My article is reproduced below:
Susanna's Story:
"You know what it's like. You submit your novel and then you sit back, anxiously counting the days. It's all done online now, but when I sent my books, it was done by post. My - brand new, I hasten to add - Jiffy bag once sprung a leak en route, though fortunately the contents were delivered intact, albeit covered with that fuzzy stuff Jiffy bags are lined with.
The great thing about the NWS is that it gives you the chance to see your writing through fresh eyes and I would urge any NWS member to be open-minded when reading their report. I submitted three novels, starting with the first draft of The Deserter's Daughter. I had to wait some extra time for my critique because my reader was meeting her own deadline, but, boy, was the wait worth it. She enjoyed the book very much and her critique went into detail about adjustments that could be made to develop greater depth and make the story a more absorbing experience for the reader. Amongst other things, she made me realise that I needed to do a major re-write of a crucial scene and that I should tone down Evadne's personality. When I later wrote my second draft, I had a list of all the changes, big and small, beside me and they undoubtedly helped me produce a stronger narrative.
I sent my reader a thank you card via Melanie, who was the organiser back then, and, as many of you will know from your own experience, there is something odd about sending thanks to someone whose identity you don't know. I never expected to find out who my reader was, but when The Deserter's Daughter was published, my agent gave a copy to another of her authors, Jean Fullerton, who, when she started reading, thought it was familiar..."
* * * *
My Garden in the Snow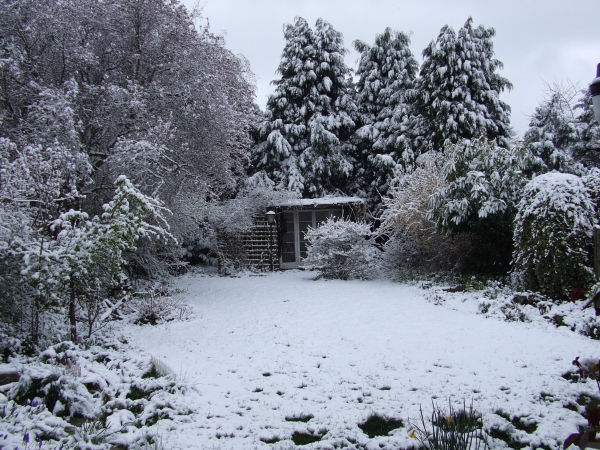 * * * *
Interviews:
A Look Behind The Book. Interview by Tara Greaves.
Extract:
Have you always been a saga fan? What do you enjoy about them?
When we were 14, my best friend discovered Victoria Holt's books and she got me reading them – and I was hooked. Throughout my teens I wrote gothic stories and this soon morphed into writing sagas – not because I was reading them at that point, but simply because that was the way my story-telling naturally developed.
I enjoy reading thrillers, psychological suspense and US cosy crime, but my favourite fiction is the saga. I especially love books by Anna Jacobs and Carol Rivers. In a saga, there is so much material to become immersed in, both as a reader and as a writer. The traditional format of the saga is to follow the heroine as she faces and bit by bit overcomes her troubles, with various sub-plots adding further depth and intrigue to the story. I love the exploration of the characters' lives – their relationships, ambitions, successes and failures, all the things that make them tick. The tiny details of a life can take on such significance. Sagas are about relationships of all kinds – family ties and divisions, friendships, enmity and love.
Sagas have an historical setting too, which has always appealed to me, again both as a reader and as a writer. For me, the delight of the saga is seeing the heroine having to deal with challenging situations within the social and legal context of the day.
* * * *
Meet Me at the Diner: Chatting with Canadian author Jen Gilroy about what makes a good saga, living by the sea, The Deserter's Daughter and writing the next book.
* * * *
Close To Home: Chatting with Jo Barton on her Jaffa Reads Too blog, about Mancunian inspiration and the support of other writers.
* * * *
Blog interview with Jan Baynham, about what comes first, plot or character; what editing was needed on The Deserter's Daughter; where I do my writing.... and more.
Extract:
Having both an agent and an editor with your publisher, would you tell us about both sets of editing you had to do before the novel was published?
When I met Laura for the first time, one of her questions was, "Why is The Deserter's Daughter so short?" Well, I had always been advised that you have to keep your book under 100,000 words. "It's a saga," she said. "It's at least 120,000 words."
That was a terrific moment - being given permission to expand the book and dig deeper into the characters. Laura was keen for me to explore the relationships further. And before you ask, the final word count was a little under 127,000.
The only edits that Lesley Crooks, my editor at Allison & Busby, asked for were two small surface-edits. One was to explain the difference between a pound and a guinea (which I worked into the narrative by way of Evadne's snobbery) and the other was to make it clear what date the baby was born.
* * * *
h
Author Spotlight. Blog interview with Julie Stock, about how ideas develop, the good and bad bits about writing, themes in my writing... and more, including a sneak preview of my second novel for Allison & Busby, A Respectable Woman.
* * * *

Books that go through the NWS (see the article above) and are subsequently published are entered for the RNA's Joan Hessayon Award. Here is the interview I gave the RNA when The Deserter's Daughter was a contender.
* * * *
Frost Magazine. Talking about the "writing rules" I follow.
h