Currently, I am working on:

November is National (actually International) Novel Writing Month and I have signed up with the intention of ploughing through book 6 and getting it finished. Who knows, maybe book 7 will get started as well...
In last year's NaNoWriMo, I reached the magic 50,000 word target by the skin of my teeth, as you can see.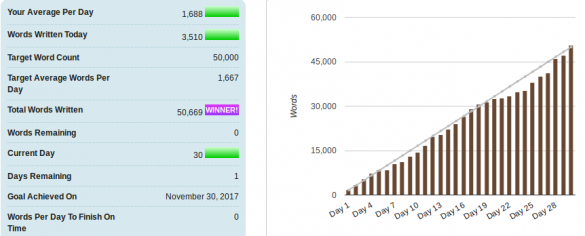 You can also see those plateaus where hardly anything got written. This year my aim is to have none of those!
I will be posting a screenshot of my daily stats and chart every day here on my Welcome page; and a record of all the screenshots will be on my blog.
Here are my stats for day 17 - and I've had a great day. I've written 4225 words - and my bar has shot up above the par line. Now I've got to make sure I get lots written tomorrow. For more details about my writing day, click here to go straight to the blog.