Welcome to Susanna Bavin's website.

I am a saga writer living in North Wales, but my books are all set in and around Manchester, which is where my family has lived for generations and where I grew up.
I have written four stand-alone sagas - The Deserter's Daughter, A Respectable Woman, The Sewing Room Girl and The Poor Relation.

I am currently writing a Second World War trilogy, The Home Front Girls, for Bookouture, which will be published in 2024.
I also write as Polly Heron and Maisie Thomas. As Polly Heron, I write The Surplus Girls 1920s saga series while as Maisie Thomas, I write The Railway Girls saga series set in the Second World War.
I am represented by Camilla Shestopal at Shesto Literary.
To find out about my books, please click on the tabs at the side.

* * * *
Finding me online:
Here are my Amazon author pages for me writing as Susanna and as Polly and Maisie.

And here is my Twitter link for Susanna - and here are Polly's and Maisie's.

Here is my Polly Heron website, with lots more information about the Surplus Girls series.
And you can find me on Facebook on my Maisie Thomas author page for the latest information about all my books - Susanna's and Polly's as well as Maisie's. I also share snippets I've found in my research as well as other things I hope my readers will enjoy. As a community, every weekend we share what we're currently reading. We're a friendly lot, so do join us!
* * * *
Latest News:
Christmas Wishes for the Railway Girls is doing wonderfully well in the rankings at present. Many thanks to everyone who has bought it.
And it has already garnered over 300 ratings and reviews on Amazon. Again, huge athanks to everyone who has left feedback. It really does make a difference.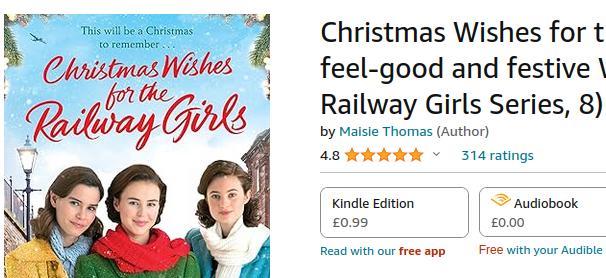 * * * *
h
After finishing work on Springtime with the Railway Girls, and also on the structural edits for the second Home Front Girls book, I am once again writing the third book in the Home Front Girls trilogy, which comes out next year.
It won't be long now before we have the cover reveal for book 1 in the trilogy. I have already seen it and I can't wait to show it to you.
* * * *
If you're like me and you like your books as paperbacks rather than on Kindle, then you might like to know that the paperback of my latest Maisie Thomas book, Christmas Wishes for the Railway Girls, is currently £5 at Amazon.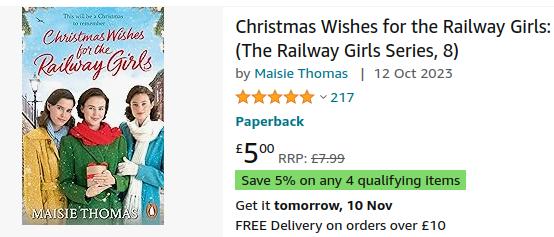 h
Christmas Wishes is currently 99p on both Kindle and Kobo.

Here are the links:

Christmas Wishes on Kindle

Christmas Wishes on Kobo
You can also find Christmas Wishes for the Railway Girls is on the shelves in branches of Morrison's and Asda. You can order it from any branch of WH Smith's or Waterstone's or from any independent book shop. Or you can request it at your local library. I love it when my books are borrowed.
* * * *
h
My Blog:
In my latest blog, I'm sharing not one but two cover reveals. Two beautful covers, plus the blurbs, of a pair of sagas that will be published in 2024. Please click on the Blog tab over on the left to take a look.

* * * *
A Look at My Bookshelves:
These are the books that help me write my books.
| | |
| --- | --- |
| The history of costume has been a great interest of mine for many years and here are some of the books that I refer to not just when I'm writing but also for pleasure. | |
| | |
| --- | --- |
| | This dictionary of words that entered the language in the 20th Century has been invaluable to me. |
These are the railway books that have helped me write the Railway Girls series

.
Here are some of my Second World War books: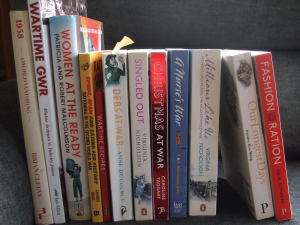 h
* * * *
This Month in the Past:
| | |
| --- | --- |
| | ... while in December 2020, I did a big structural edit of Christmas with the Surplus Girls. |
And you won't be surprised to know that in December last year, I was working on

Christmas Wishes.
Polly Heron:
As Polly, I have written a 1920s quartet called The Surplus Girls. Surplus girls were that generation of young woman who, because of the loss of life on the battlefields of the First World War, missed out on the opportunity to marry - which was, of course, seen as the purpose of a woman's life at that time. Instead, they suddenly found themselves in the position of having to support themselves for a lifetime, and without the necessary education and training behind them.
The four Surplus Girls novels in order are:
The Surplus Girls
The Surplus Girls' Orphans
Christmas with the Surplus Girls
New Beginnings for the Surplus Girls
Here is the link to the series page on Amazon Kindle. The first two titles are on Kindle Unlimited.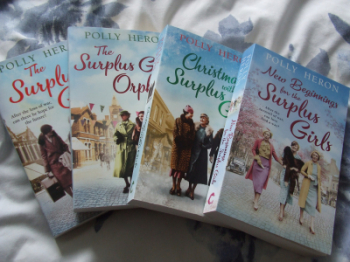 Living by the sea:
I love living in Llandudno. We've been here for nine years now, but that "Wow! We really live here," feeling never goes away.

Take a look at some of my favourite photos by clicking on the Llandudno tab.