Latest News:
I'm delighted to tell you that I have finished writing book 4 in The Surplus Girls series and I am in the porocess of giving it a final read-through looking for stray typos before I send it to my agent for her to read.

Christmas with the Surplus Girls was published on October 7th.


Here is the link to Amazon UK. For links to Amazon in other parts of the world, please click on the Christmas with the Suprlus Girls tab on the left of the screen.
* * * *
I've been doing a lot of work on my Polly website and have added some new pages. Here's the link - I hope you'll take a look.
I've also set up a new twitter account for myself as Polly - here it is. I hope you'll come along and follow me.
* * * *
| | |
| --- | --- |
| | Next February, a 3-volume set of The Surplus Girls, The Surplus Girls' Orphans and Christmas with the Surplus Girls will be published on Kindle. The pre-publication price is £7.99. |
* * * *h
All four of my Susanna Bavin books are currently £3.32 each on Amazon UK. If you are a Kindle Unlimited user, you'll find The Deserter's Daughter there.

h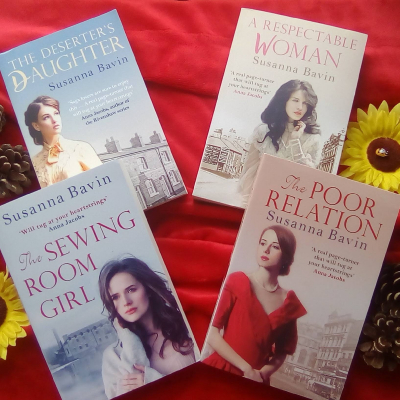 * * * *
h

My Blog
ery special blog for you this week
In my latest blog, I'm taking a look back at my first experience of NaNoWriMo. I hope you'll take a look, especially if you are new to NaNoWriMo and have signed up to do it this year.

These are my three NaNoWriMo novels: