This week I am delighted to welcome Jessica Redland to my blog to share the writing tips that work for her. Jessica is the author of Searching For Steven, which is one of the best books of 2015, and she throws a jolly good online party.
She lives on the stunning North Yorkshire Coast with her husband, daughter, and Felix the cat. By day, she's a recruitment consultant and by night, she's a Brown Owl and a writer. Working full-time means she doesn't get to write nearly as often as she'd like, but her dream is to be able to write full-time one day. Her debut novel, Searching For Steven, was released by So Vain Books in June 2015. The follow-up, Getting Over Gary, is out on March 3rd 2016 with the final book in the trilogy out in Summer 2016.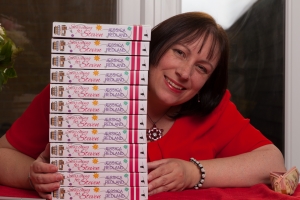 I wish I could say I have a rule that was something like "Write 1,000 words every day," but I don't often achieve that in a week, never mind a day! I wouldn't say I have rules as such, but the approach I try to take is:
1. Don't get rid of any writing, because you never know when you might need it.
Each time I start a fresh edit (ie from the beginning of the book), I give it a new number, so that if I decide I've over-edited something or don't like what I've done to it, the old version is still there. If I remove a whole chapter, I put it in a new file and call it "Removed - Kate's bad date with John," so that I can reincarnate it later... or use it in a different book.

2. Don't get obsessed with Amazon positions or reviews. It's great to know how you're doing in the charts, but your book can fluctuate massively from one day to the next. Don't worry if it suddenly drops 80,000 places, because it might rise 85,000 the next day! As for reviews, read and enjoy the good ones and learn from the bad ones if they're written constructively. If they aren't, ignore them! Mind you, that's probably easier said than done. At the time of writing, I haven't had less than a 4-star review and I'm sure my first 1- or 2-star will have me sobbing bucket-loads, but I will remind myself that it's just one person's opinion and there's a stack of other people who loved it!

3. Do enjoy it!
Writing can be hard, it can be lonely and it can be scary. Remember why you started writing in the first place. Could you imagine not doing it? Then forget about all the scary stuff like rejections (if you're looking for an agent or publisher) or bad reviews and just enjoy the absolute pleasure of developing characters, settings and incredible stories.

| | |
| --- | --- |
| | |