This week I am pleased to welcome Mandy James to my blog. Mandy is the author of numerous short stories as well as novels, including the Time Traveller books published by ChocLit; Summer in Tintagel; and her latest book, published a fortnight ago, Behind the Lie.
* * * *
Mandy, welcome to my blog. I simply have to start with where you live, because moving to Cornwall was a dream come true for you. That's especially interesting to me because coming to live in Llandudno was my own personal dream come true. Can you tell us the story of your move to Cornwall?


| | |
| --- | --- |
| Thanks so much for inviting me, Sue. Yes, I first came to Cornwall on holiday when I was four. I came with my family , not on my own of course :) The memory of that holiday stuck in my head for years afterwards and as an adult, I visited many times. We moved from Sheffield to Bristol where I taught for about twenty years, then four years ago we moved to Cornwall! It was a big step and it mean a considerable downsize, but I wouldn't live anywhere else now. The whole family moved too! We don't live in the same house , no that would be a nightmare... | |
Does Cornwall provide inspiration for your writing?

Yes. My last three novels are set here, and any future ones will be, I think. Walking by the ocean frees my mind and spirit and then the ideas just come.
You were a child writer, weren't you? What were your stories about? Was time travel an early interest?

I always wrote poems, songs and a few stories. I can't remember what they were now, but I think they had themes of adventure and derring do. No, time-travel wasn't really on my radar until A Stitch in Time. I was thinking of a catchy title for my novel and came up with the old saying. Then the whole story just happened in my head. I wrote it in six weeks!

You have had time travel novels published and more recently suspense novels. In suspense, have you found your true writing niche?
That's difficult to say. The first book I ever wrote was Dancing in The Rain, which was published after the time travel ones. It was originally called Severe Weather Warning and is about special powers and saving the world. I loved that book as it was inspired by our many trips to Monument Valley in Utah/Arizona. I do like a story with lots of mystery and perhaps a twist or two, but find it difficult to be pigeon holed into one genre. Last year I wrote a totally quirky book called The Calico Cat. It's about a woman who hates to conform and decides to just quit her job and walk around the South West Coast Path. She meets lots of interesting people on the way. It was a book that had to be written, but I'm not sure it is mainstream enough to be published. So a very long answer to your question is - yes and no!


Your latest book, Behind the Lie, was published two weeks ago. Tell us a bit about it and about the character Holly.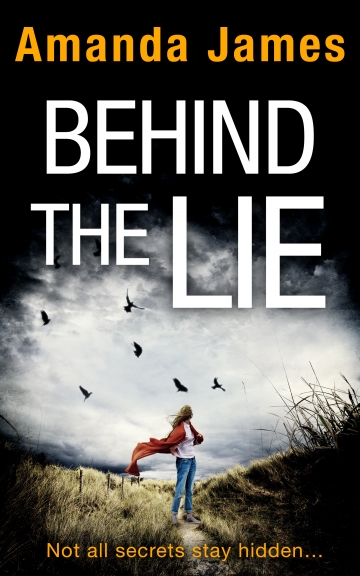 Holly has had a difficult past but has at last turned her life around. She has a loving husband who's also wealthy and she shares her time between a beach house in Cornwall and an apartment in London. She's also carrying twins and though there are one or two regrets in her heart, she is happy and ready to be a mother. Then the worst happens. One of her babies dies shortly after being born and this plunges Holly into despair. But then she becomes convinced that her son didn't actually die. Nobody believes her of course, why would they? Her son died and everyone knows it. They think she's just imagining things because of her grief and past depression. Holly can't accept it though and then something happens which gives her proof that he is still alive...against all advice she decides that she won't stop until she finds him.

When you started thinking about the book, was there a breakthrough moment when you knew you had a cracker of a plot?


| | |
| --- | --- |
| Yes. I was walking on the beach, - the one that Holly's house overlooks - talking to my husband about the plot as I often do. He said yes, no, right, okay, as usual. He has learned not to say anything negative. When I told him the twisty bit he seemed to think it would work. So it was game on! Where the whole idea came from in the first place is unknown to me. Plots appear in my head and have to be written, or at least given a chance to explain themselves | |

What's next for your writing?
More twisty stories set in Cornwall I think. I have a few ideas and some bits of novels waiting for completion, so there's plenty to keep me going for a bit.
Thanks so much for having me as your guest, Sue. I have really enjoyed chatting!
* * * *
You can visit Mandy's Author Page on Amazon