It's November and that means it's NaNoWriMo. On my blog all this month I'll be tracking my progress as I head towards getting book 6 finished. Last year, I had a few blips along the way and my writing pretty well stalled. This year I am determined to keep writing at a steady pace.
If you would like to leave a few words to cheer me along, they would be greatly appreciated. As anyone who has ever done NaNo will tell you, it's hard!
Day 30 - the end!
66,401 words in 30 days! From the start of Chapter 14 of book 6 to the end of Chapter 32. There's still a bit more to write, but I am delighted and proud to have written so much in NaNoWriMo. It's great to get that purple 'Winner!' flash.

Day 29
This time yesterday I wondered whether I might make it to 60,000 words by the end of the month and here we are at the end of November 29th and I've clawed my way past that number. So now it's jst a question of how much more I can get written tomorrow before I claim my win officially and download my NaNoWriMo certificate.
Is it me or does the new graph (which, since I've topped 60,000, now goes all the way up to 80,000) make my word count bars look less impressive? Or should I just celbrate the fact that my chart has had to be expanded?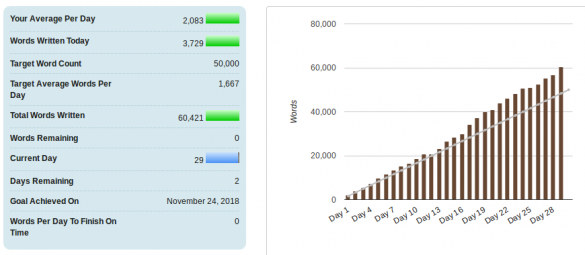 Day 28
.
There have been several days throughout November in which I wasn't able to get masses of writing done because of prior commitments, and this was one of those days. Still, I managed 1317. Not bad.
.
The question now is, can I make it to 60,000 words in the next 2 days? 3308 to go. Can I do it? What do you think?
.
Day 27 - a good day!
Words written today - nearly 3,000. A very good day. But I have realised how different it feels writing in NaNo when you have already made it to 50,000. The anxiety, the feeling of pushing yourself, has evaporated. To be blunt, I've gone off the boil!
I have quite a few more scenes left to go and I have to get as much done as I can this week - preferably I need to get the whole book finished - as next week the copy-edits of The Poor Relation will arrive in my inbox; plus I'm organising a big family do for the second weekend in December...
h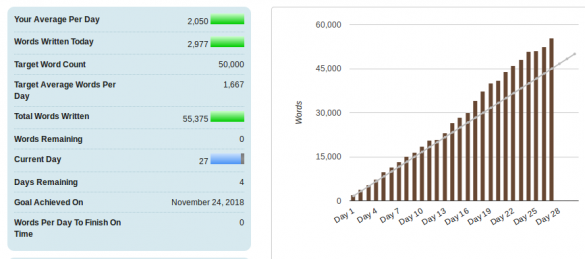 Day 26
As I mentioned on my Welcome page, today's word count doesn't reflect the work I've done today. The morning was spent mapping out all the remaining scenes in detail, though I must admit I did intend to get more written today.
Incidentally, the Nano word count may be 52,398, but you may be interested to know that the word count for the book stands at 98,201. Will I get it past the 100,000 mark tomorrow?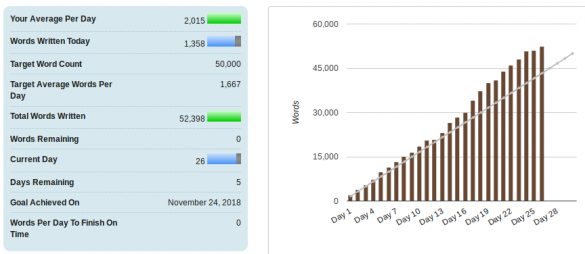 Day 25
A measley 216 words were added to the NaNo count today, but that doesn't mean I've had a day off. I am now approaching the book's final sequence of scenes, so today included working out some of the logistics of getting everything in exactly the right order - something that isn't always obvious when you are writing from several viewpoints. Also, I went back through the book to check the timeline was correct.
But, yes - I have felt very relaxed today. Can't deny it. I have to get back into the swing tomorrow.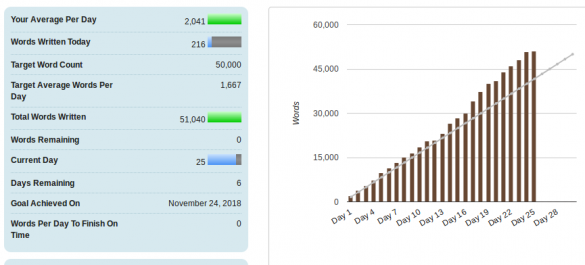 Day 24 - and I've hit the 50,000 mark!
Last year I scraped past 50,000 words on November 30th, spurred on by the success of my friends Kirsten Hesketh and Tara Greaves. This year - 50,000 on day 24. Yay!
But that doesn't mean NaNo is over for me. I could 'declare' my win at this point, but instead I am going to keep my stats open for more as I carry on with the intention of finishing book 6 by the end of the month.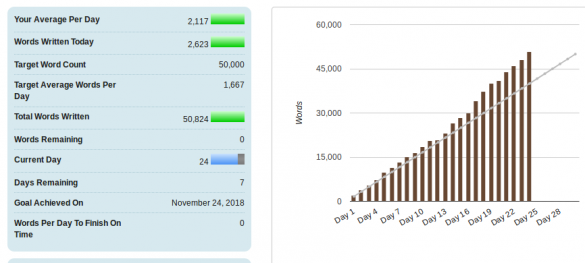 Day 23
Today's writing included writing a scene that I hadn't planned but it suddenly came to me and simply had to be included. Other than that - well, to tell the truth, I could have worked a lot harder today and got more done. Am I slowing down because the 50,000 is within my grasp? That would be a big mistake, as I'm aiming not for the 50,000 (though that will be great) but to get book 6 finished. The NaNo word count may be 48,201, but the book word count is 93,784 and is going to be over 100,000 when finished.
I wonder if I am slowing down because I know that there is a scene coming up for which I still haven't worked out the logistics. One of my characters is going to end up in danger and two others have to rescue him... but how are they going to find out where he is? Hm. Tricky.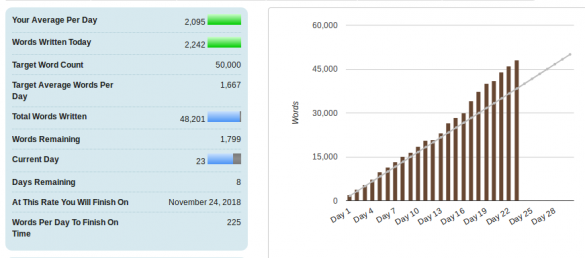 Day 22, otherwise known as publication day of The Sewing Room Girl
Well, you won't be surprised to hear that much of today was taken up in celebrating the hardback and e-book publication of The Sewing Room Girl... and NaNoWriMo received less attention accordingly. Still, I managed to get a little short of 2000 words written. I now have 5 days ahead of me when I will have plenty of writing time. Remember, I'm not just aiming for the NaNo 50,000 words, but to get book 6 finished. That's one reason I have knocked off today - so that I can do a spot of planning this evening. See you tomorrow.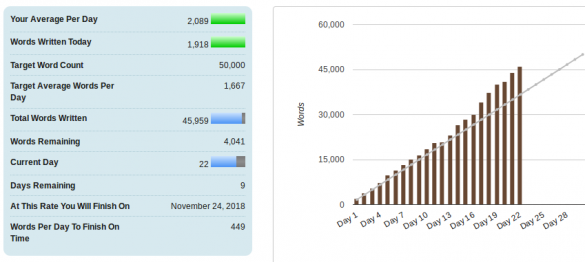 Day 21 - a much better day!
A better day, yes, though not as good as it could have been without the interruptions... You know how it is! Tomorrow's "interruption" is going to be publication day of The Sewing Room Girl... though that's one interruption I'm looking forward to!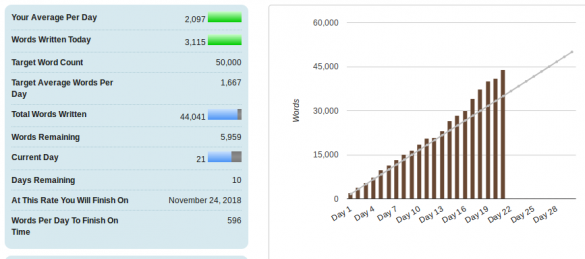 Day 20
Today was the 4th of 5 days in November when commitments meant that there wouldn't be much time for writing. I got a bit done, as you can see, but only a bit. Have got to do masses tomorrow.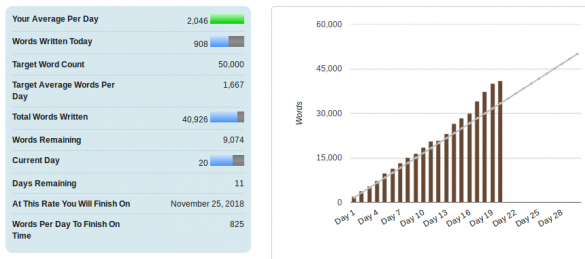 Day 19
Not quite as agood a day as yesterday but it's another day when my daily word count is in the green instead of the below-par blue (see day 16). I must admit I was expecting to get more than 2738 done today, having set aside the whole day for writing; but you know what it's like. Something came up that I had to attend to.
Tomorrow is going to be one of the 5 days in November when I'll be out all day, so it's going to be a challenge to get much done. Fingers crossed, please!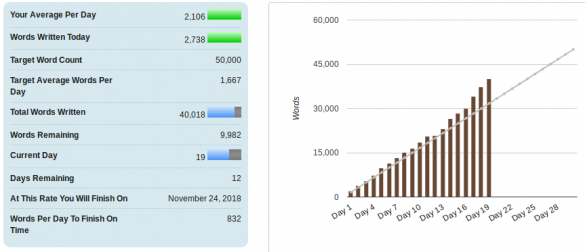 Day 18
It's been another good day. I wrote a couple of thousand words during the morning, then went out for a walk by the sea in the beautiful November sunshine before coming back to do more writing. I didn't manage to get as much written as yesterday, but it was still a good day.
h
Thank you to all of you who are following my progress day by day. The blog's view figures are steadily mounting over the month and I appreciate your interest.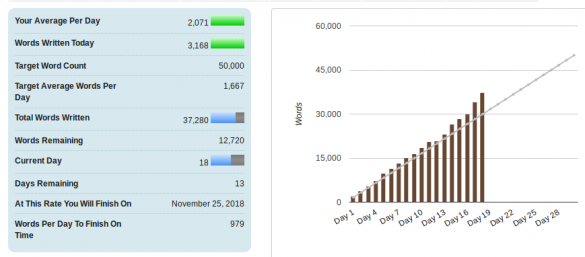 Day 17. Yay! Big success!
After a slow and frustrating morning, I got into my writing stride and steamed ahead this afternoon and evening. Are you like that? Does your writing flow more and more the further you get into it?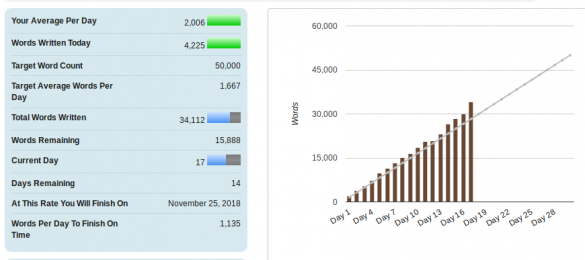 Day 16 - and I've slipped backwards a bit...
Well, I was out for most of the day, so maybe I shouldn't mind so much about not getting up to the target daily average, but it still feels a shame. Should I have ploughed on and done another 100 words? Probably. But I'm tired. Maybe I'll get a bit of planning done this evening to put towards a flying start tomorrow.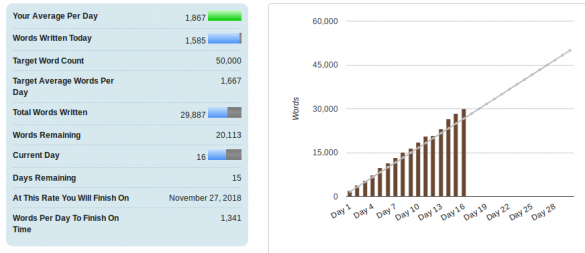 Day 15
1755 words today. Nothing like as spectacular as yesterday, but it's an achievement to write more than the daily average of 1667 words. Tomorrow I will be out for much of the day, so this evening I'm going to get plenty of planning done, ready for a mammoth typing session when I get home. Wish me luck!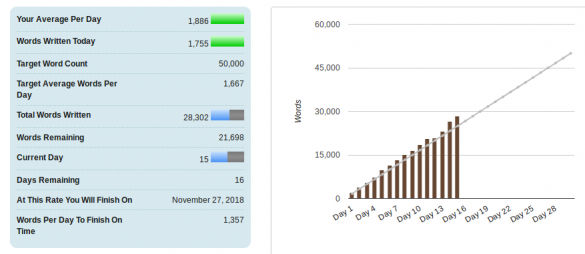 Day 14 - a great day!
3,493 words added to the Nano total today - far and away my most productive day. It's wonderful to see my bar not just peeping over the diagnal line but obviously above it.
Today got a bit complicated when I was part way through writing a scene ending, only to realise it was attached to entirely the wrong scene, so I had to move it elsewhere, which involved a bit of jiggery-pokery as I grafted it into the place where it needed to be. Worth it, though.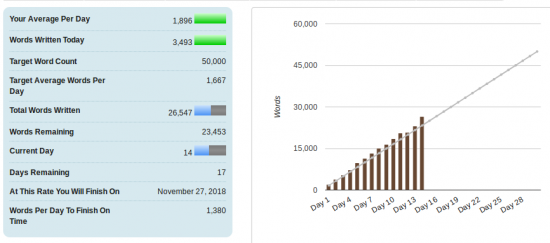 Day 13
After yesterday's Nano-disaster, things went much better today, fueled, it has to be said, by all the lovely folk who responded to my despondent tweet about yesterday's frankly awful word count. The online writing community is so generous.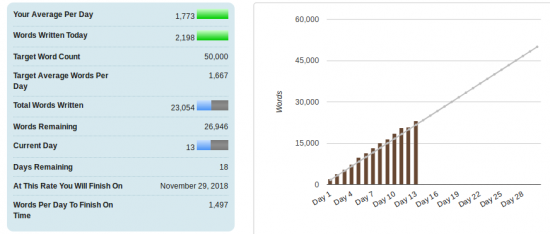 Day 12
176 words. 176!! That's all that I wrote today. Well, no, it's not all I wrote - I actually wrote quite a decent amount, but the "decent amount" was for a book proposal my agent asked me to produce. 176 words! And I had been doing so well. 176... Feeling crushed.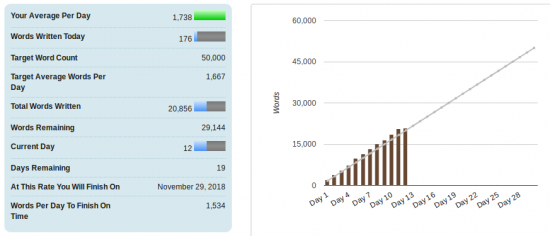 Day 11
A little over 2000 words were written today - the first scene of Chapter 19. If I can get the 2nd scene written tomorrow, I'll count that as a success, even though the scene isn't likely to be anything like as long. Tomorrow is one of the days when I'm not going to be free to do much writing, so that bit of my bar graph that is above the line is probably going to be somewhat closer to the line this time tomorrow.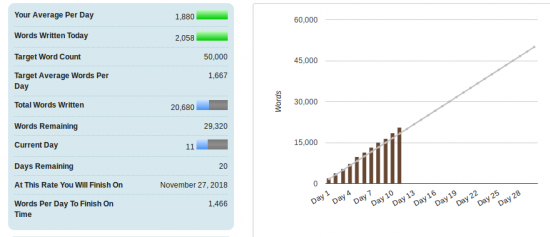 Day 10
NaNo works on the basis of 1667 words a day - that's what the diagonal line up the graph represents. My word count puts me a day ahead, which is good, obviously, but I still have a lot to write to get my book finished so I do need to get a move on.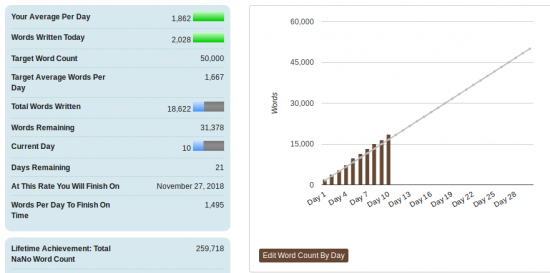 Day 9...
...and that blue line next to 'Words Written Today' means I haven't managed to add the 1667 words, which is the average needed to get to 50,000 in 30 days... which I'm putting down to being tired at this point and rather headachy. Hoping for better things tomorrow. Night night.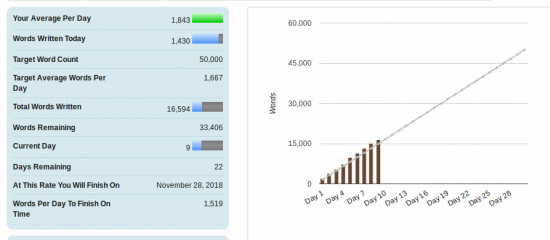 Day 8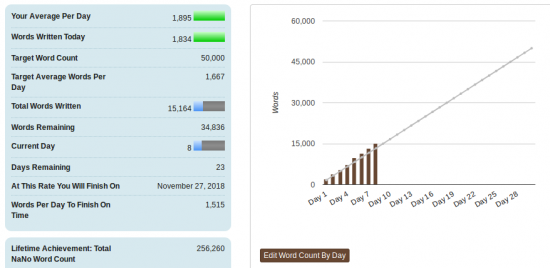 Day 7 - and I'm making good progress...
... but nothing like the amazing progress made by my friend Cass Grafton, co-author with Ada Bright of The Particlular Charm of Miss Jane Austen, which is being reissued by Canelo next year. Cass has already topped the 17,000 words mark. Wow!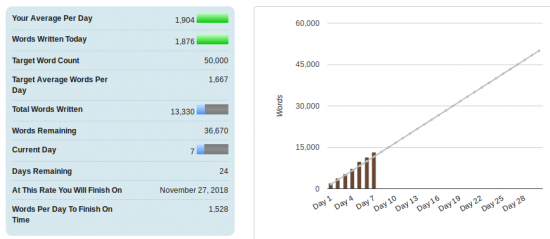 Day 6 - and it's looking good, but...
But what will happen on day 8, when the chances of writing will be minimal? I need to pull further ahead to make up for that.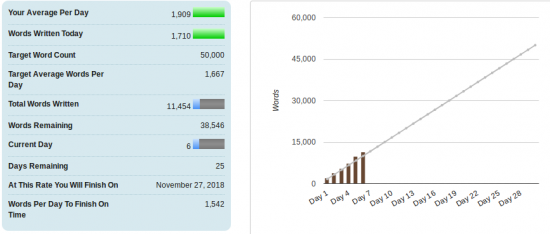 Day 5 - and my word count is peeping noticeably above the line. Woohoo!
The challenge this week is to keep above that line in spite of being out all day on day 8. That means writing more than the daily average of 1667 on every other day.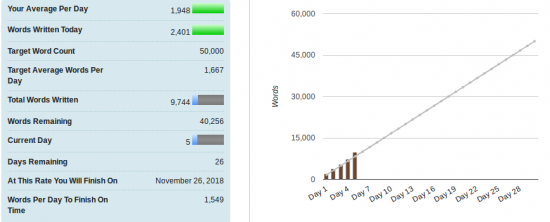 Day 4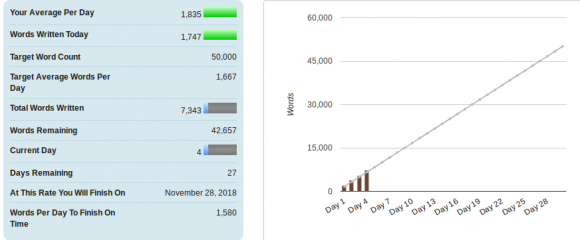 Day 3
Day 2
Day 1