Well, it's good news all round this week. Here I am with my friend Jan Baynham, and we both have splendid news to share with you.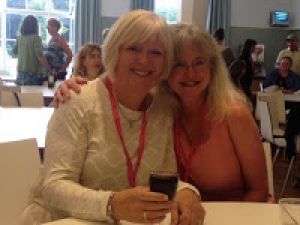 Jan's news is that she has signed a 3-book deal - yes, a 3-book deal! - with Ruby Fiction. The first book, Whispering Olive Trees, will be published in 2020. When she announced it on Twitter, Jan said, "I didn't think it would ever happen and am still in a bit of a daze."
| | |
| --- | --- |
| | My own news is that The Deserter's Daughter has been selected by BBC Radio Berkshire as their Book of the Month and it will be discussed on Radio Reads on June 4th. Fingers crossed, please, everybody, that the panel enjoys it! |
After Jan's wonderful news, it makes it even more special for me to welcome her back to my blog to take part in the Take Two Characters series. Jan is a Grecophile who writes about mothers and daughters. Her stories all have secrets at the heart of them. In a recent blog she said, "I'm fascinated by the way families have skeletons in their cupboards and these sometimes come to light only when a family member dies."
Here are the two characters she has chosen:
* * * *
I have been enjoying the 'Take Two Characters' feature on Susanna's blog where she invites writers to choose two fictional characters, one from their own writing and another from a novel they've admired and enjoyed. As an as yet unpublished author whose debut novel is going to be published by Ruby Fiction in 2020, imagine how thrilled I was when Susanna invited me onto her blog to talk about my choices.
Elin Morgan is one of the main characters in my dual-narrative mother daughter novel, 'Whispering Olive Trees'. Brought up in rural mid-Wales, she is an only child who has been left devastated when her father dies suddenly.
| | |
| --- | --- |
| | Having completed her studies at Art College, in the summer of 1979, she travels to Greece, the country her dad loved so much, and enrols at the Simonides Painting School based on an idyllic Greek island. There, she is enthralled by the beautiful colours of the sea, the beaches, the heat and the friendliness of the Greek people. |
She understands why her father used to talk about his travels to the country with such passion. Her time there is cut short by a tragic event and she is forced to leave behind the man who has stolen her heart.
| | |
| --- | --- |
| Elin is very much a creature of her time and its social conventions. In her eyes, she does the right thing and, in doing so, she sacrifices her own happiness. She never paints or mentions her time in Greece again. | |
| | |
| --- | --- |
| | However, she does have a conscience and leaves her diary of that summer to her daughter, Lexi, to be read after her death. Lexi travels to Greece to find out more about what happened to make her mother keep a life-long secret. |
I loved writing about Elin and wonder what decisions she would have made had she been living today. Was she right to keep her secrets from Lexi? Setting the story in Greece also took me back to the times we visited my auntie and Greek uncle on the beautiful island of Spetses and to the holidays we've spent in Crete since.
It was hard to choose one character from all the wonderful characters I've met through my reading but in the end, it had to be Nerys Watkins in 'The Kashmir Shawl' by Rosie Thomas. Nerys, like Elin, is from rural mid-Wales. As an innocent newly-wed, she accompanies her husband, Evan, on a Presbyterian missionary posting to Kashmir in India. Although disillusioned at first, she is determined to make the best of her new circumstances. Life changes for her when the men are sent away to war and she becomes a young wife struggling to cope in wartime, eventually blossoming into a different woman. In view of her husband's apparent indifference to her, it seems perfectly understandable to me that she is attracted to a handsome charismatic mountaineer.
| | |
| --- | --- |
| The sounds, smells and colours Nerys would have experienced are brought to life in the writing. I felt I was right there with Nerys in 1940s Kashmir. It is a world bursting with vibrancy, with the Second World War always present but not obviously so. | |
Evan seems to be too austere and serious for her but Nerys would never leave him and, like Elin, she does the right thing in her eyes, keeping secrets to the end of her life. How Nerys comes to be in possession of the beautiful Kashmir shawl isn't revealed until near the end of the book after her granddaughter, Mair, embarks on a journey to India to find out about her grandmother's life there during the war years.
* * * *
Jan's Links:
Twitter - @JanBayLit

Facebook – Jan Baynham Writer