A week in a writer's life - well, just over a week, actually - and not a typical week either, but certainly a happy and interesting one for me.
It started with a visit from my dear friend Jen Gilroy, who is a Canadian writer of contemporary romances. She came to stay with us last year before the RNA (Romantic Novelists' Association) Conference but only for a couple of days. This year, she came for longer, which was perfect because it gave us plenty of talking time!
I took Jen to the Imperial Hotel on the promenade to have afternoon tea.

The paperwork in the photo is the various talks that were going to be held at the RNA Conference, but most of our time that afternoon was given over to talking about a new novel that Jen is planning. It's a real honour when a writer shares her book-plans with you.

To give you an idea of how engrossed we were.... We sat down at 3 o'clock and some time later, when we imagined it was about half past 5, it turned out to be 7.20!
The RNA Conference was superb. The best bit, as always was meeting up with friends. As lovely and supportive as non-writing friends can be, there is no substitute of the support of people who understand because they have the same hopes and the same problems.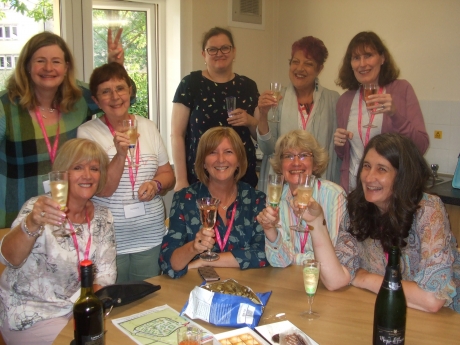 Jen is the one standing up on the right-hand end. You will see my fellow Sister Scribes there and also Jan Baynham, who has recently signed a 3-book deal with Ruby Fiction (front row, first on the left), and Sue McDonagh, who writes for ChocLit (beside Jen).
On the last evening, everyone got dressed up for the gala dinner.

L - R, top: Sue McDonagh, Maddie Please, Cass Grafton, Jane Cable.

Seated: Kirsten Hesketh, Jan Baynham
And of course we had to have a Sister Scribes photo....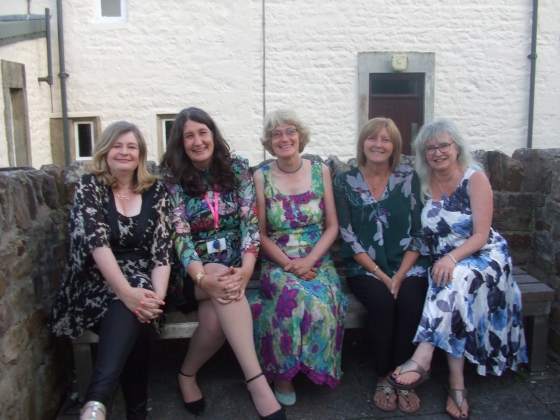 Leaving the Conference was a bit of a wrench, but it is wonderful to be home and breathing that fresh sea air.

On Monday morning I went for a walk around the Great Orme....

hhh
.... and came home to find that Julie Barham, who runs the Northern Reader book blog, has posted her review of The Deserter's Daughter.
Julie says:
"This saga is an intelligent and complex study of family life when desire, money, greed and fear become muddled with loss and hatred.... What makes this book so special is the way that Bavin creates a world of deceit and criminality in which the innocent suffer, and mistakes are harshly punished. As in Bavin's other book, the research into the era is absolutely impeccable, giving not only the facts but also managing to convey the feeling of the period in so many details.... Sometimes brutal, even tragic, the hope and love which perminate this book with the basic strength of the characters means that it is difficult to put down, as tension and surprises maintain the reader's interest. A flowing and immensely readable book, I found it a fascinating read. I was so pleased to have the opportunity to read and review this book."
Wow! As you can imagine, I felt quite overwhelmed when I read this.
Well, there we are. That was my writing life this past week and a bit. Oh yes - one last thing. While I was at the RNA Conference, I received from my agent the edits she wants me to work on, for the book that is coming out in May 2020. I am pleased (and relieved!) to tell you that the edits are purely surface edits - which means that they are minor additions or changes that don't have a knock-on effect on the rest of the plot. Phew! So that's my next writing week taken care of....
If you enjoyed this glimpse of my writing life, do leave a quick comment. I'd love to hear from you.
See you next time.