Hands up everyone who remembers the First, Second, Third etc Pan Book of Horror Stories, Edited by Herbert Van Thal. I loved those scary stories when I was in my early teens. Looking back, some of them weren't entirely suitable for a young reader, though that didn't stop me lapping them up. My favourite was a ghost story by E F Benson (who wrote the Mapp and Lucia books), called The Confession of Charles Linkworth. I had a phase of reading it every Sunday afternoon before tea and, even though I ended up practically knowing it by heart, it frightened me silly every time. The hero of my newest book, The Surplus Girls, is named Gabriel Linkworth, as a nod to that story.
That was the second E F Benson short story I had come across. The first was The Room in the Tower, which featured in a book called Ghosts! An Anthology, which I received as a Christmas present. Unfortunately, the story was rather wasted on me because I didn't altogether understand it. It is, in fact, a vampire story and I sort of knew that when I read it, but I was a very literal-minded child and this was in a book of ghost stories and therefore Julia Stone had to be a ghost… didn't she?
| | |
| --- | --- |
| I have always been a reader of short stories. In particular I love the collections that were put together in 1930s, with titles such as The Mammoth Book of Thrillers, Ghosts and Mysteries and A Century of Humour, which was one of a series of A Century of… books. What better way to be introduced to writers such as Wilkie Collins, Guy de Maupassant, O Henry and W W Jacobs? | |
My first taste of G K Chesterton was the wonderfully funny The Tremendous Adventures of Major Brown, which I re-read regularly. The Mammoth Book mentioned above even contained a 'sealed section' at the end, with stories to make you 'glance over your shoulder and perhaps even start when there is a creak on the stair.'
A writer whom I came to love was A J Alan, whose wit and humour could find mystery in the most ordinary situations. It was often the style in these 1930s anthologies to top each story with a few sentences of author biography, beside which was a pencil sketch of the man (it was almost always a man) himself; but there was only ever a fancy question mark in the place where A J Alan's portrait should be. He was famous for reading his stories on the wireless and his identity was a closely guarded secret, as befitted the mysterious nature of his tales.
And I adored Anthony Hope's The Dolly Dialogues. I bought myself a first edition after enjoying the two chapters that featured in A Century of Humour. They are clever and teasingly romantic observations of life and love.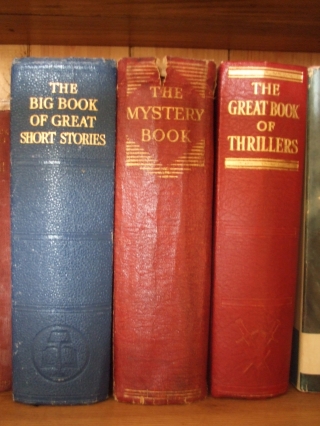 The most recent collection of short stories I've read is Jan Baynham's Smashing the Mask and Other Stories. Although there isn't an official theme to the book, a thread of the supernatural runs through several of the tales and in each one Jan creates a different sort of atmosphere, from the deep sorrow of a ghostly mother to the chilly horror of a long-ago murdered girl to the traditional creepiness of helping a stranger.
| | |
| --- | --- |
| | She also uses painful directness to tackle the all too recognisible dilemmas of hoping against hope to meet a long-lost child and struggling to be brave in a situation of coercive control. Jan has produced an intriguing collection filled with insight, a variety of moods from the uplifting to the poignant, and more than one clever twist in the tale. |