I hope that you are coping with the lockdown situation and that you and your loved ones are safe and well.
Social media is awash with all kinds of ways of passing the time. I wonder how many of you are doing extra reading? Fortunately for me, I had borrowed a mass of books from the library before the lockdown started. Here are some of them: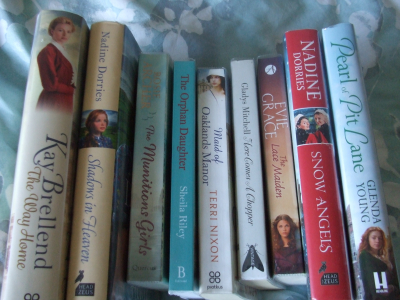 As you can see, as well as writing sagas, I also love reading them!
On her Catherine's Cultural Wednesday website, Catherine Boardman has set herself and her followers a TBR (To Be Read) challenge. You can read about it here. What I love about this blog of Catherine's is the descriptions of how she came by these books in the first place.
Incidentally, Catherine has also put together a list of museums which have virtual tours - so that you can indulge in a spot of culture during these difficult times.
Back to the books! While we're all living in lockdown, I thought I'd share some of my reading with you in case you're looking for more titles to add to your Kindle carousel.
| | |
| --- | --- |
| | An excellent first book in a new saga series. Deceit, tragedy and emotion are the themes in Terri Nixon's latest novel, set on the beautiful Cornish coast. The characters are drawn in depth and develop throughout the story as each one is tested to the limit. It's a very twisty-turny plot and you definitely need to pay attention as you get towards the end, but, crikey, is it worth it. This is the first Terri Nixon book I've read and now I'm looking forward to reading her Oaklands Manor trilogy. |
Here is a link to Terri Nixon's Amazon page.
I've been up to my ears in edits all week - hence this being the one and only blog of the week - but I'll be keeping in touch more after this.
Sending very best wishes to you all xx