We had four Great Orme goats in our garden a few evenings ago. They come down from the Orme quite often in the dark and trot through the streets in single file, stopping to help themselves to a snack from gardens along the way.
Fortunately, I happened to be on the way upstairs when they jumped over our wall and I saw them from the half-landing window. They are very good about being shoo'd off, which is just as well, as they are HUGE. I wish I had a photo to share, but I was too busy rushing outside to save the lives of my plants!
I do, however, have this photo to share . . .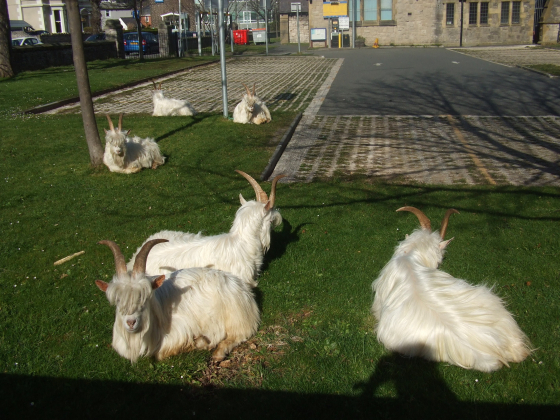 With Llandudno in lockdown, and the streets more or less empty, the goats seem to have moved into town permanently. About a dozen of them have set up camp in the car park of Eglyws Trindod Sanctaidd (Holy Trinity Church).