Welcome to the first day of The Poor Relation's book blog tour. Today's reviews are featured on the Books, Life and Everything, Northern Reader and Books and Me book blog sites, hosted by, respectively, Pamela Robertson, Julie Barham and Karen Mace.
All I can say is - wow! What a start! I am thrilled to bits (not to mention extremely relieved) to tell you that Pamela, Julie and Karen all loved the book.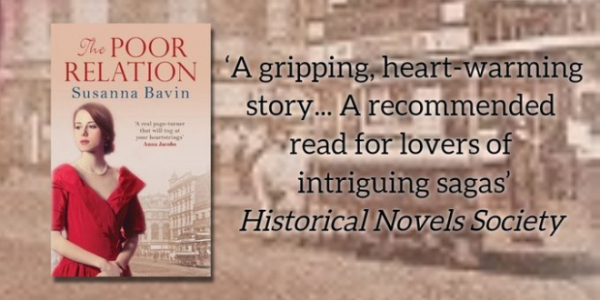 Here are snippets of what they said, plus links in case you'd like to see the full reviews:
Julie Barham at Northern Reader:
Mary Maitland is the centre of a saga beginning in 1908 which poses many questions embedded in an extremely engaging story. . . . This book is about the survival of people against the social pressures on them. No one is wholly bad or wholly good; this is a novel filled with real people in a setting that is deeply researched, but even more deeply felt. . . . This book cleverly intertwines the stories of several individuals and carefully builds up their backstories. It is written with enormous understanding of the time, and people who lived in widely varying circumstances. . . . This is a very involving book which quite literally kept me awake, in a good way."

Link to Julie's full review.
* * * *
Karen Mace at Books and Me:
"Another stunning book from Susanna that portrays a wonderfully feisty woman, living in a time where that kind of behaviour was frowned upon. It also explores the difference in the classes and how you're expected to toe the line if your circumstances change through marriage. Mary Maitland is the central character and I loved her! . . . I found myself cheering the spirit and initiative she showed. . . . Throw into the mix the battle of families and the snobbery between classes, and shameful secrets from tha past coming to light . . . I found myself totally caught up in the lives of these characters and thankful for women like Mary and Helen who weren't afraid to be different and want something more from life than just to do what they were told!"

Link to Karen's full review.
* * * *
Pamela Robertson at Books, Life and Everything:
"When I realised this historical family saga was set in Manchester in Edwardian England and was going to cover social and political issues to do with women's suffrage and the place of women in society, I knew that this was going to be right up my street. . . . The style is fluent and engagaing . . . . The paternalistic attitudes which kept women in their place are starkly shown. . . This is a story you can get involved in. In short: Edwardian Manchestershows you the virtues and faults of a generation."

Link to Pamela's full review.
* * * *
And in case that has whetted your appetite . . .
The Poor Relation on Amazon UK Amazon US Amazon Canada Amazon Australia
Other links:
Waterstones Kobo Book Depository