In April, I posted a couple of blogs of recommended reading for lockdown and I thought it was time for another. This time, following on from the VE Day commemorations held last week, I am concentrating on sagas set in wartime - not just the Second World War, but also the First. Let's start with the Second World War stories.
* * * *
East End Angel by Carol Rivers
The story opens with Pearl at her wedding reception. Sounds like a happy occasion? It is... until her old flame turns up (and has she really got over him?) and guess what, his latest girlfriend is Pearl's younger sister, who has no intention of listening to big sister's dire warnings.

Roll all this together and you've got a gift-wrapped guarantee of secrets, dilemmas and complex relationships, all wrapped in a convoluted plot. A page-turner that is full of secrets, suspense and family drama, this is Carol Rivers at her best.
* * * *
A Ration Book Childhood by Jean Fullerton
This is the third of the Ration Book stories, a series that gets better and better, which, considering the excellence of the first book, A Ration Book Dream, is saying something.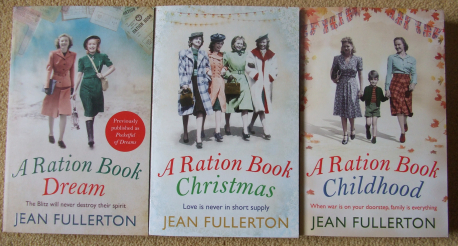 As with the earlier books, Childhood is filled with details of the ordinary everyday life of the time. We are back with the Brogan family, but the past has come back to haunt them and threatens to change their previously rock-solid family feeling for ever. I was rooting for Ida every step of the way. The story is enriched by various subplots that add depth, colour and emotion to a wonderful page-turner.
Although this is book 3 in the series, I think it could also be read as a stand-alone novel, though my advice would be to start with book 1 and immerse yourself in the lives of the Brogan family.
Book 4, A Ration Book Wedding, was published recently and is on my TBR pile.
* * * *
The Way Home by Kay Brelland
| | |
| --- | --- |
| | The third and final instalment of the Bittersweet Legacy series starts in 1916 and follows Livvie between the field hospital where she works on the Western Front and her home in the East End, on the toughest street in London, where her family life is complicated, to say the least. There is a strong sense of the time and places involved on the story - the grinding poverty, the terrible bloodshed, but also the staunch friendships and the resilience of the human spirit. |