This week, I am delighted to welcome a new visitor to my blog - contemporary romance author Sue McDonagh. As well as being a writer, Sue is also an artist, so I specially wanted to feature her in my Cover Love series, as she is in the highly unusual position of being her own cover artist.
Here she is to tell you all about it.
* * * *
| | |
| --- | --- |
| I'd read that authors who ask to design their own covers were very frowned upon, that it was a sure sign of amateurism. So I'd resigned myself to having nothing to do with the cover design of my first novel, Summer at the Art Café, published by Choc Lit. | |
But it turned out to be really very difficult to lose control of something that I was most connected with. I very cheekily sent in a loose sketch, which was instantly returned as not suitable. I can't even believe now that I was completely undeterred, and sent in a more finished version of that early sketch. This one hit the mark, but wasn't quite up to scratch for Berni Stevens, who does all the Choc Lit covers. At that time, I had no idea about the design guidelines for a successful cover, but I learned quickly!
By the time I'd sent her within the next 24 hours, a further three versions of my design, she replied 'Stop!' and what has followed has been a wonderful relationship which has resulted in three covers in total, all bearing my paintings, and Berni's unmistakeable hand in the font positioning and a considerable amount of patient photoshop type tweaking on her part.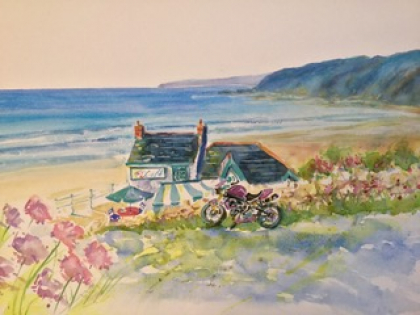 Other authors have asked if I'd advertise my skills for their book covers, but I know perfectly well that my covers only work because someone who knows what they're doing is responsible for positioning them just so!
I'm attaching some of the original paintings that are now the covers for the Art Café series, and you'll be able to see that liaison.
I love how my readers write to me, telling me they've visited that bay on trips to Gower. I always reply in the positive, despite the fact – I'm not sure whether I should tell you this – that that bay does not exist! Summer at the Art Café is a combination of the headland from my local beach, the beach and cliff is Langland Bay, where I've spent much time painting, the building was inspired by a National Trust photographed and substantially changed, and the foreground was from St Davids, West Wales, another favourite location of mine. Oh, and that purple motorbike? I really wanted to buy it at a local dealers but couldn't really justify having two motorbikes… I keep promising myself that one day, I'm having that bike, as it's inspired the series that has worn BestSeller banners regularly since publication.
Having created this cover, it had become my brand, and I had to ensure that the others in the series tallied with it. It's quite a challenge to make them appear connected, but not all the same!
The table and chairs on the cover of Meet Me at the Art Café were 'borrowed' from a local seaside café, and out soon third novel Escape to the Art Café swops the view around, so that we're sitting on a bench on the beach at the other end of the bay.
After much hunting on Google for the exact reference, I used my own very old garden bench, and a blanket that I crocheted some years ago, particularly as crochet, one of my passions, appears in the novel.
I have my fourth book sort of planned out – will this tie in with the Art Café? And what cover will I design for it? You, like me, will have to wait and see! x
* * * *