It's time for another Where I Wrote . . . blog. This week, I'm ging to show you where I wrote a scene from A Respectable Woman. It's the scene where Nell visits the Fairbrothers' house for the first time.
Next to the pier in Llandudno, there is a small bay, whih happens to be my favourite place in the world. To get into it, you go down a flight of stone steps. The bay is all shingle and rocks. I sat on the rocks here to write this scene.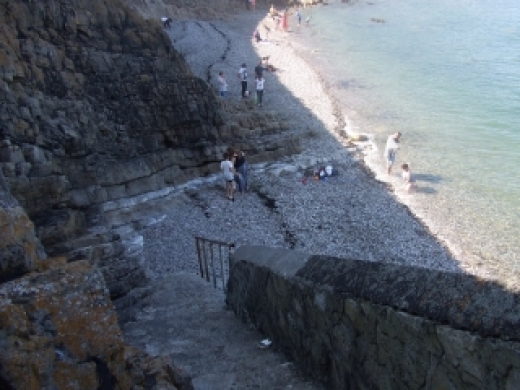 Here is a picture of the little bay as seen from the pier when the tide is in.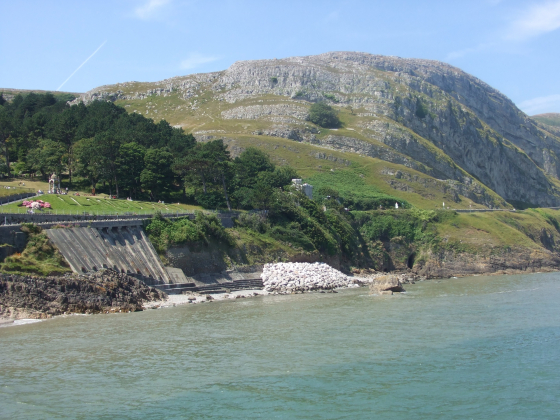 And here is the scene . . .
* * * *
The Fairbrothers' front door stood beneath a protruding porch at the top of a flight of stone steps. To either side was a vast bay window, above each of which was another bay; and above those was a floor with ordinary flat windows. You could get the population of Wilton Lane in this house and still have room to wriggle.
Nell knocked. The door was opened by a maid wearing a black dress not unlike an Ingleby's dress, only she had a bibbed apron over it, and a white cap.
'Good morning. Mrs Hibbert to see Mrs Fairbrother.'
'I shouldn't think so,' was the blunt reply.
Be professional. Nell kept her smile in place. 'She's expecting me. I have an appointment.'
'I'll see if madam is home. Wait here… please,' she added at the last moment, and flounced away.
Ridiculous: as if she didn't know whether her mistress was in. Nell turned to admire the garden. Imagine having a garden that size. It must be a lot of work, but the Fairbrothers wouldn't care about that. They would employ a gardener. The lawn was a square with four paths leading into the middle, creating four smaller squares. In the centre was a fountain, with spray spurting from a fish's mouth. Sunshine caught the water, transforming it into a shower of diamonds.
The door swished and she turned back to the maid.
'You're here to see madam's lady's maid, Miss Preston. Round the back.'
The door shut, leaving her stranded. No point being vexed. No time either. Her appointment was for ten o'clock and if she didn't find this Miss Preston in two minutes flat, she would be late. She ran down the steps and found her way to the back door. It was standing open on this fine June morning. She knocked and walked in.
'...the front door, bold as you please, and asked for madam herself – oh, look who it isn't. Visitor for you, Miss Preston.'
'Thank you, Daphne.'
A middle-aged woman with an oval face above a double-chin rose from the pine kitchen table. She wore black with white collar and cuffs – did everyone in the lower orders wear black with white? It was the uniform of the respectable working woman; Nell had run up a black-with-white dress for herself. Miss Preston wore a narrow black belt and Nell caught a flash of silver hanging from it that brought to mind housekeepers in novels, who carried the keys of the house about their person, before she realised the objects included a pair of scissors and a small box, like a cigarette case, only it must contain pins and needles.
'Mrs Hibbert? How do you do? I am Miss Preston, lady's maid to Mrs Fairbrother. I'm sorry about Daphne's manners. She picked up some unfortunate ways in the munitions.'
She gave Daphne a look; Daphne gave her one right back.
Miss Preston led the way upstairs by a back route into a room with a child's bed – but what a bed! A four-poster, only not a four-poster; a two-poster, if there was such a thing, with an arch of delicate voile over the head of the bed; and a coverlet that cascaded in lacy frills to the floor. Nell would have given five years of her life for Cassie a bed like that. Mind you, the little minx would probably use the posts for climbing practice and build a nest in the fabric at the top. Even then, it would be worth it. Any mother would think so.
'This used to be the nursery,' said Miss Preston.
'Used to be?' Nell wrenched her gaze away from the fairytale bed.
Miss Preston sounded amused. 'Miss Roberta hasn't slept here for a long time.'
What did she have now? A real four-poster? With a wooden chest at the foot, crammed with toys and puzzles and dolls with real hair and eyes that shut when you laid them down?
'Here comes Miss Graham, who is Miss Roberta's maid.'
Nell exchanged nods with the newcomer. The young miss was grown-up enough for her own maid. Sixteen? Seventeen?
'You'll be teaching both of us,' said Miss Preston.
'I see,' said Nell. Start the way you mean to go on: by making money. 'If you're both to have supervised practice, our sessions will have to be longer.'
'That will be satisfactory,' said Miss Preston.
'Shouldn't you ask Mrs Fairbrother?'
Miss Preston's eyes showed understanding. 'Please don't worry about your bill not being paid.' She said it kindly, not as a put-down.
'I'll show you the basics of the machine and we can talk about what you want to make.'
'We shan't be making clothes,' said Miss Graham in a snooty voice.
'Mrs Fairbrother and Miss Roberta are dressed by Mademoiselle Antoinette,' Miss Preston explained.
'Mademoiselle Antoinette's is one of the most exclusive salons, if not the most exclusive, in all Manchester,' added Miss Graham.
'I see,' said Nell. 'So you'll be..?'
Did Miss Preston smother a sigh? 'In the attics, there are trunk upon trunks of old garments of the highest quality but hopelessly out-of-date. Mrs Fairbrother wants to adapt some of them into new garments.'
'It was Miss Roberta's idea,' said Miss Graham. 'She thinks that because styles today require less fabric, it shouldn't be difficult to make use of the old stuff.'
Really? This young girl was dressed by Mademoiselle Antoinette, and she still wanted more clothes? Miss Roberta was beginning to sound like a spoilt brat. Just wait until she got home and told Leonie.
'We know how to mend and do alterations,' said Miss Graham. 'All we need from you is a lesson on how to use this machine.' She eyed the Singer with dislike – and wariness. Another of Miss Roberta's ideas?
'I'm afraid it's not as simple as that,' said Nell. 'You have to know how to use it for different fabrics. I used to work in a garment factory and believe me, you wouldn't set a beginner to work on velvet. But don't worry: there's nothing to be scared of.'
'I'm not scared.'
But she was. Nell had seen the uncertainty in her eyes.
One thing soon became clear. Teaching the two ladies' maids side by side was a clumsy arrangement.
'Instead of longer shared lessons,' she said, 'I suggest separate sessions.'
Miss Preston agreed. 'Could you do two two-hour lessons next time? We'd provide luncheon, naturally.'
'I have my diary with me.' Nell spoke calmly, though fireworks were going off inside her. What a start to her venture.
* * * *