This week, I'm delighted to welcome to my blog Juliette Lawson, whose debut historical novel, A Borrowed Past, has been described in reviews as having "captivating descriptions, strong narrative and relatable and believable dialogue" and "clever storytelling that never becomes predictable".

Before she turned to writing fiction, Juliette wrote non-fiction books under the name Julie Cordiner. Here, she tells us how she made the change.
All my life I've been a logical left-brained accountant, with my creativity more or less limited to knitting and sewing. My first attempt at writing came out of the blue in 2011, when for no apparent reason I volunteered to produce a parish history book to support my church's Restoration Appeal. Luckily it was successful, and I loved the experience so much that I decided to try my hand at a novel. I started to learn writing craft through books, festivals and courses, and worked on a draft of a historical saga, but my work as an Assistant Director of Education was incredibly busy, so I abandoned it.
Fast forward to 2018; I'd become an independent education funding consultant and had published two non-fiction books for school leaders. But the ambition to write fiction was still niggling at me, so I decided it was now or never. I dug out my draft, finished the story, then sought a manuscript assessment from the lovely writer/editor Stephanie Butland. Her ideas for improvements were excellent, and I attended her writing retreat in February 2019, which was inspiring. Our last activity was to make a writing manifesto:
h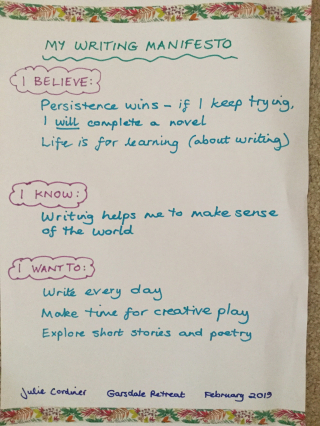 I embarked on the re-write but found it hard to create the emotions and character arcs I knew it needed. Nonfiction was easy by comparison! It became obvious that I needed to dig deeper and release the creativity which (I hoped) was lurking inside me.
How did I do it? Mainly by changing my mindset. I created a different persona for my fiction, not only in the sense of a pen name, but in my preparation for writing, by carving out time for activities that stimulated my creativity. I joined a regular creative flow practice (meditation and free writing) led by Orna Ross, founder of the Alliance of Independent Authors (ALLi). She has a blog post which explains more: https://www.ornaross.com/morning-creative-flow-practice/. The Facebook sessions aren't live now, but there are lots of replays.
My busy mind found meditation tricky at first, but gradually learned to go deep. Free writing helped me resolve plotting dilemmas and strengthen characterisation, by posing and answering lots of questions.
Indie author Joanna Penn https://thecreativepenn.com talks about 'filling the creative well'. I started taking regular walks on the beach nearby, and I bought an annual pass to Durham Botanic Gardens so I could visit regularly to walk, take photographs, and write, enjoying nature throughout the seasons. Location sparks my ideas, so I loved my research trips to York, Scarborough and Whitby. Here's my blog page with two recent articles about Scarborough: https://juliettelawson.com/category/blog/
My next step was to find a mentor to guide me through the re-write. She provided invaluable support and challenge and without her, I doubt I'd have finished the book.
I reinvented my writing process too, rising early for creative flow practice and getting my words down first. An app called Brainwave puts me in the writing zone instantly; it mimics the brain's activity, overlaid with sounds from nature (I like thunderstorms). I made a personal commitment to write every day, ticking off the days until I had completed my pre-edit draft. Writing in a different place also helped: in parks, coffee shops (pre-Coronavirus), libraries, and in the garden. Here's my garden set up for the deepening stage of my editing!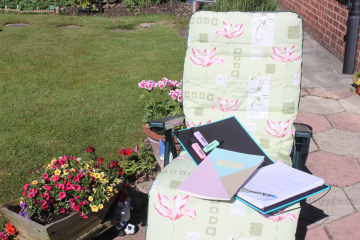 At last, in February 2020, I published 'A Borrowed Past', and I've been delighted with the reviews. I'm about to publish a fourth nonfiction book and will then return to my partial draft of book two in the Seaton Carew Sagas series; I can't wait!
I'm sure my success in awakening my creativity has come from being intentional about developing it and making time to relax more. I am so glad I persisted.
Links:
Paperback: https://www.amazon.co.uk/dp/095745791X
Ebook: https://books2read.com/u/3yEEq6
Website: https://juliettelawson.com
Facebook: https://www.facebook.com/juliettelawsonauthor
Twitter: https://twitter.com/juliette_author
Reader Club sign up: www.subscribepage.com/a7f7t3