July 1st is National Northern Authors Day and I'm celebrating my northern roots and Mancunian stories with a prize giveaway over on Twitter, so those of you who use Twitter, get over there straight away and join in!
Here's the link to my page: https://twitter.com/SusannaBavin
The two books I am gving away are signed paperbacks of The Deserter's Daughter and The Surplus Girls, written as Polly Heron.
There are two separate giveaways. All you have to do is retweet the relevant tweet(s) and follow me if you haven't already. Please note, there is a separate tweet for each book.
You'll need to scroll down a short way.
| | |
| --- | --- |
| The tweet for The Surplus Girls giveaway has this photo. . . | |
. . . and the tweet for The Deserter's Daughter giveaway has this picture: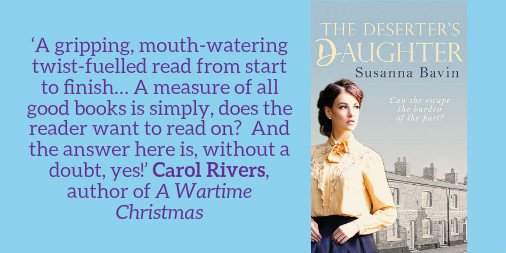 The give away closes at midnight on July 1st, BST. Good luck!