Today I'm delighted to welcome Kirsten back to my blog.If you are a long-time visitor, you'll know her well.

She is joining in the Cover Love series to tell us what it was like when she saw the cover of her debut novel for the first time.
Like all authors, I was curious - no, make that on tenterhooks - to see the cover for Another Us. I'll also admit to a certain amount of trepidation.
I've run my own marketing company for over twenty years and, as such, I know exactly how crucial packaging is to the marketing mix. Get that wrong and, no matter how good the product, the whole thing can fall apart and never reach its full potential. In other words, everyone says don't judge a book by its cover – but then everyone does exactly that! But that wasn't what I was worried about. Having worked with Canelo for the past few months, I'd already learned that their marketing instincts are spot on. I knew that whatever cover I was presented with would have been carefully briefed to maximise impact and sales.
But supposing I didn't like it?
Even if the cover helped to propel the book to a bestseller banner, Another Us is still my baby and I wanted it to look … right. Authentic. True to itself.
I needn't have worried.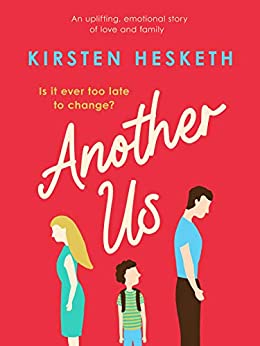 It took a brief moment to marry reality with anticipation - for some reason I had been convinced there would be a boat on there – but then my reaction was simply 'of course'. There they were, my lovely characters. Emma and Daniel, whose marriage is under strain, are standing with their backs to one another and Jack, unwittingly one of the causes of that strain, is standing between them looking quizzical.
That's the story.
How could the cover have been anything else?
And it's red! I love red! I love it so much that I dyed my hair red to match the cover on launch day in order to raise money for Mind!
Are there things I would have done differently? If I had been brave enough, I might have suggested Jack was facing the front – oblivious to all the drama – or facing his mum as the main protagonist. But then others have interpreted Jack facing his Dad as looking for reassurance and clarity – and I can see that that makes sense.
Happy days!
xx
* * * *
| | |
| --- | --- |
| PS. If you'd like to see Kirsten with her red hair . . . . | |
* * * *
| | |
| --- | --- |
| Kirsten's links - and her publication day cake... | |