This week, I am delighted to welcome my friend and fellow Sister Scribe, the lovely Kitty Wilson, who is here to add her voice to the Cover Love series.
Kitty is the author of the Cornish Village School series set in the seaside town of Penmenna. With five books in the series, and five very pretty and appealing covers courtesy of her publisher, Canelo, which book is Kitty going to choose as the one for which she feels that special Cover Love. . .?
* * * *
When Susanna asked me to write about my favourite cover for this series, I got desperately excited as I am very fond of my covers and the way they work together. They please me aesthetically all lined up in a row and please my business brain as they are a clear brand that, hopefully, promises the reader a comforting, warm read about a school and its place in the community.
Then I realised I had no idea which cover was my favourite.
| | |
| --- | --- |
| The first book in the series, Breaking the Rules, should rightly win the title. It was my first published book so symbolises the point where I turned from aspiring author to published writer. I was in the village pub when I first saw it (hmm, I know, just a quick workday break) and showed everyone there, no-one was allowed back to their pint until they had cooed over it. So that should be my favourite. But…it's pastel and while pastels are lovely and this book cover is awesome, it can't be my favourite as I'm a strong colour palate kinda woman. | |
| | |
| --- | --- |
| | My favourite colour is green, so surely that makes Christmas Wishes a shoo-in. All that lovely green and red, and I adore Christmas, am absolutely potty for it and that cover made my heart so happy. I loved it to pieces. But, still not my favourite. |
| | |
| --- | --- |
| Summer Love, the third book in the series is sunshine and bunting and summer in Cornwall. The colours are bold and bright and conjure up the tone of the book perfectly with it featuring two of my peppiest characters in the main roles, but when I think about it, it doesn't win the title. | |
| | |
| --- | --- |
| | The last book of them all is Happy Ever After, it's where the characters from the very beginning eventually tie the knot and where I was able to give the absolute gorgon of the series, Marion, her very own story of personal growth and a happy ending. It was the toughest to write, it featured a heroine in her forties (yes!) and is probably my favourite book of the lot, but it is not my preferred cover. |
Which leaves us with Second Chances, the second book in the series and an utter firework extravaganza with a bold deep purple on the cover. Purple is my least favourite colour in the world, followed closely by orange (I know, I'm an odd one). But still, this cover with its explosion of fireworks filling the night sky, this is my favourite. I love it. I think it is so vibrant, so alive and packed full of colour and perfectly conjures up Bonfire Night. My publishers did a little gif when they first released it - I am terribly blasé about them now - but at the time I played it and played it and played it like an adolescent girl mooning over her first crush.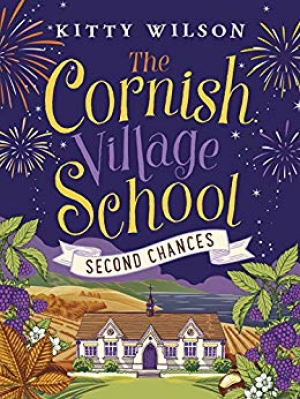 | | |
| --- | --- |
| I think though, what makes this cover extra special to me is that on publication day I was staying with my writer friends, Susanna is one, in a townhouse in Bath where they presented me with a giant cake with this beautiful, very purple cover on it and filled me full of champagne for breakfast. This may have coloured my judgement. | |
But still Second Chances, despite being purple and orange and only having a little bit of green on it, reminds me of the power of friendship every time I see it. This is the cover closest to my heart.
* * * *
* * * *