| | |
| --- | --- |
| This week I am delighted to welcome Jan Baynham back to my blog to take part in my Cover Love series and explain why one of her book covers has a special meaning for her. | |
* * * *
Cover Love
Thank you, Susanna, for inviting me to take part in this lovely series. What a fantastic idea! I'm always fascinated by the way book covers are designed to reflect a story and although they are not the only factor, they do influence my choice of books.
I am fortunate in that I now have three book covers from which to choose, one for my collection of short stories published in 2019 and two from the novels published by Ruby Fiction this year.
The one I have chosen is the cover for 'Her Mother's Secret' that came out in April.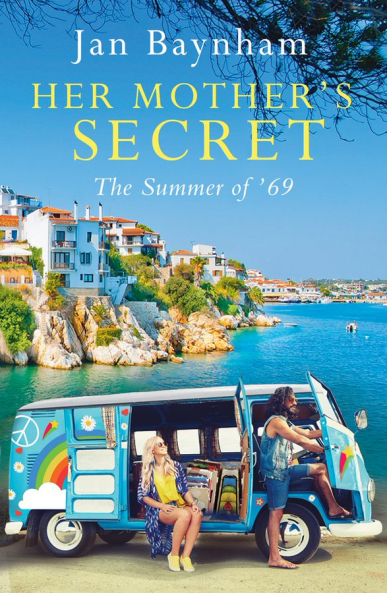 A significant part of the novel is set on a fictional island off the Peloponnese in southern Greece. The colours of the sea, sky and landscape chosen by the cover designers seem to suggest the very essence of a country that I love and have visited many times. At the time of publication, everyone in the UK was in the middle of lockdown. Holidays were being cancelled and here in Wales we were not able to travel further than five miles from our homes. Very soon after publication, the reviews and messages from readers were telling me how the novel was providing an escape from the grim news about how the corona virus was spreading and the numbers of people who were sadly losing their lives. Although not written as an escapist novel, I was more than happy for readers to find the setting authentic enough to escape the awful situation we were all facing even if it helped for just a few hours.
The cover also made me smile. When I first saw the design, I was taken back to a time when I, too, had long blonde hair and wore a mini-skirt and my husband had long dark hair and sported a beard. We could have been that couple standing by the camper van. Those were the days!
However, my main reason for choosing the cover of 'Her Mother's Secret' was that having my first novel published was the culmination of a dream come true. As a late starter and only beginning to write fiction after I retired, there were times when I didn't think that would happen. I was thrilled that Ruby Fiction believed in my story and offered me a contract for three books. Knowing that readers have enjoyed my writing has been immensely rewarding.
* * * *
Blurb:
A secret left behind in the summer of '69 …
It's 1969 and free-spirited artist Elin Morgan has left Wales for a sun-drenched Greek island. As she makes new friends and enjoys the laidback lifestyle, she writes all about it in her diary. But Elin's carefree summer of love doesn't last long, and her island experience ultimately leaves her with a shocking secret …
Twenty two years later, Elin's daughter Alexandra has inherited the diary and is reeling from its revelations. The discovery compels Alexandra to make her own journey to the same island, following in her mother's footsteps. Once there, she sets about uncovering what really happened to Elin in that summer of '69.
* * * *
Jan's links:
Her author page on Amazon - and Her Mother's Secret is 99p on Kindle at the moment. Just saying!
Jan's Twitter page
* * * *