If you have seen the Latest News slots on my Welcome page here or on my Polly Heron websites recently, you'll know that the third in the Surplus Girls series is going through the editing process at the moment, so I thought you might like to have a little glimpse into the world of writing. My editor wanted me to change around the order of some of the events in the first part of the book, so this is how I tackled it.
First I made an A4 sheet for each scene, complete with all the things that happened. I laid them all over the floor in order... and then I started rearranging them....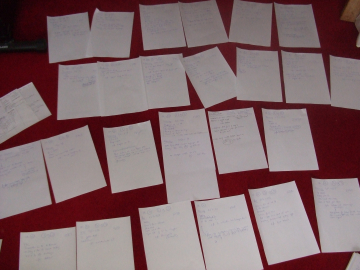 .... with a little help from Cassie (who doesn't look very pleased to be having her picture taken).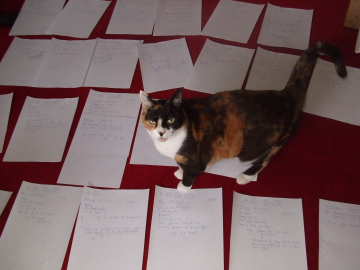 It wasn't just a matter of switching scenes around - it was bits within scenes in some cases. And of course every time a piece of plot moves, it's essential think through all the possible knock-on effects.
I imagine that most writers these days would do this job on-screen, but for me, it's pen and paper every time. That way I can see the whole layout all in one go. All I can say is, it works for me.
Anyway, it's been a time-consuming business that has required loads of concentration, but the end is in sight and I'll be sending the revised book back to my editor next week. Fingers crossed, everyone, please!
Susanna / Polly