This week I am delighted to welcome Kirsten back to my blog. As many of you will remember, Kirsten used to have a monthly slot here, when she was in the porcess of looking for an agent. Well, that is all in the dim and distant past. She signed with a wonderful agent and her debut novel, Another Us, has just hit the Amazon bestseller position for the second time.
But today Kirsten isn't here to chat about the success of Another Us. She's here to tell us about her latest venture in the writing world.... writing a new saga series under the name Poppy Cooper.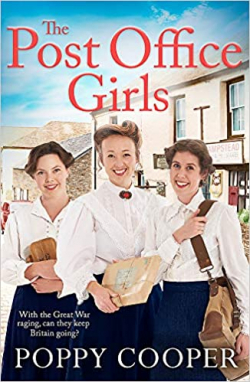 Kirsten, welcome back!
Hello Sue. Thank you very much for having me. It's super to be back on your lovely blog.
First of all, please can you introduce Poppy books to us.
I'd be delighted to. The Post Office Girls is a 'lively, engaging saga' about the lives, loves and adventures of the women working in the Army Post Office in World War One. There were so many letters being sent to the various fronts, that the Army Post Office built a huge wooden 'Home Depot' on The Regent's Park to cope with it all. At the time, it was the largest wooden structure in the world and there are some amazing photos of the interior.
How did you set about researching for the books?
It's been a really steep learning curve! As well as finding out everything I could about the Home Depot, I've also had to grips with life on the home front during World War One. And all this during a global pandemic when the libraries and museums have been largely closed! Of course, I've read as widely as I could about the period – both fiction and non-fiction – and also read a variety of contemporary diaries and picked the brains of as many experts as I could get talk to me! The Postal Museum has been a wealth of information – a large book has survived which lists details of many of the women who worked at the Home Depot together with any accidents which befell them at work and things that they were reprimanded for. It's absolutely fascinating!
Can you share a fact that particularly stood out for you?
In terms of interesting facts, it is often the little things that have stood out and tickled me. Did you know that in world war one, there was an underground station called simply Post Office - and the main post office it served looks more like a palace than a post office! It's now an accountancy firm.
What did you find out about the way women were treated?
WW1 clearly opened up opportunities and broadened horizons for many women. In fact, my main character, Beth, would probably have stayed at home, serving in the family shop until she got married were it not for the war. And, of course, there were men who were unhappy to come back from the war and to find women in 'their' jobs. I think this was particularly true for the Post Office which has traditionally – and well before WW1 – been the place that invalided soldiers were given work. I've tried to touch on some of these tensions in the book. That said, the book is set in the latter half of 1915 when there was an enormous recruitment drive to cope with the staggering amounts of post in the run up to Christmas - so I think it really was a case of all hands on deck. It was later in 1916 when huge numbers of injured men began to return home – including those from the Post Office Rifles. – that the tensions reached breaking point – and I hope to cover these in later books.

When you are writing as Poppy, do you use a different writing voice to when you are writing as Kirsten?
I think so. The two protagonists lived a century apart and are from different generations so I hope that's reflected in the writing. Also Another Us (as Kirsten) is written in the first person and we spend a lot of time in Emma's head, with all her hopes and fears and skewed perceptions. I deliberately wrote it to feel a bit uncomfortable. The Post Office Girls (as Poppy) is written in the third person. I've written it as quite a close third, so it is always from Beth's point of view, but I hope it's not quite as claustrophobic.

Another Us is a very emotional book, full of highs and lows, with moments of deep poignancy and also laugh-out-loud moments. Do your Poppy books have the same wide emotional range?
I hope so. There are definitely highs and lows in The Post Office Girls and I hope moments of deep poignancy interspersed with much more light-hearted and lively ones. However, Another Us has been marketed as a funny' character-driven novel (although I didn't necessarily set out to write a 'funny' book) and The Post Office Girls is more a plot-driven drama. (I think!)

Has writing as Poppy enabled you to explore different themes?
A couple of weeks ago, I would have said definitely yes. I would have said The Post Office Girls was a coming of age story exploring themes such as 'how far would you go to do the right thing?' and 'you have to know what you believe in, even if it means hurting those close to you'. Another Us explores themes such as what can happen when communication breaks down - in the space between the words? But then, blow me, a reviewer described Another Us as an adult coming of age story – so maybe they aren't that different after all.

Tell us what a writing day looks like for you. Has lockdown affected your writing regime?
I'd say lockdown has affected my head, rather than my writing regime, if that makes sense? The past year has been difficult, hasn't it? For example, my teenage daughter had to have two hospital stays for throat surgery last summer – and I don't think I've yet processed how hard I found it not to be able to visit and comfort her. And I would give anything to hug my parents. So, on the one hand, yes, I have found it difficult to both read and write at times – whereas I also think it has been the ability to keep writing and meeting deadlines that has kept me vaguely sane in the midst of all this madness! Swings and roundabouts.
* * * *
Blurb:
1915. On Beth Healey's eighteenth birthday, she hopes that she will be able to forget the ghastly war and celebrate. But that evening, her twin brother Ned announces that he has signed up to fight.
No longer able to stand working in her parents' village shop while others are doing their bit, Beth applies to join the Army Post Office's new Home Depot on the Regent's Park, and is astounded to be accepted. She will be responsible for making sure that letters and parcels get through to the troops on the front line.
Beth is thrilled to be a crucial part of the war effort and soon makes friends with fellow post girls Milly and Nora, and meets the handsome James. But just as she begins to feel that her life has finally begun, everything starts falling apart, with devastating consequences for Beth and perhaps even the outcome of the war itself. Can Beth and her new friends keep it all together and find happiness at last?
Link to The Post Office Girls on Amazon UK.