Okay, I know it's a bit early for Christmas, but along with other writers and readers on Twitter and Facebook, I'm happy to share the excitement of the cover reveal of Christmas with the Railway Girls by Maisie Thomas, which will be published in November.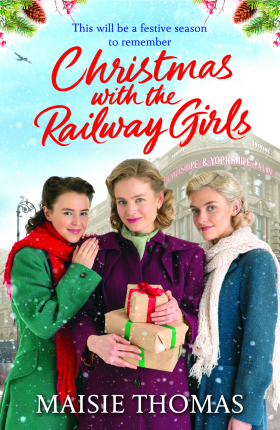 Here is the blurb:
Manchester, 1941

Christmas is the season for family and friends, and this year the railway girls will need each other more than ever.

Dot's dear friend Cordelia appears to have the perfect life. When her daughter Emily arrives home unexpectedly, she can't wait to introduce her to her friends. But things don't go smoothly and Cordelia has to decide where her loyalty lies.

Things aren't going too smoothly for Alison either. Her beloved boyfriend has yet to propose, but there's a charity fundraiser dance and she's dressed up especially. Surely, tonight must be the night.

Colette's friends are envious of her devoted husband. He meets her after every shift on the railway, and accompanies her around town. Colette has a secret, one that will change her life, if only she knew who to confide in.

The railway girls have survived unsettling times, and while the bombings might have eased, their own turmoil has only just begun. With Christmas fast approaching, will their wishes come true?
* * * *
Link to Maisie Thomas's author page on Amazon