This week it is a great pleasure to welcome my lovely friend Kitty Wilson on a return visit to my blog. Kitty is the author of the very successful Cornish Village School series, published by Canelo.

She has now written her first stand-alone novel, Every Day in December, published by One More Chapter, which is about the relationship between Belle, who, in spite of personal difficulties, believes that in December special things can happen; and Rory, who, because of what happened to him some years ago, now hates that time of year.
Today Kitty is here to tell us about Every Day in December's front cover.
* * * *
I was excited about the cover of Every Day In December as it was my first ever standalone and felt very lucky that they included me in some of the decision-making. I had been very keen that blue was a dominant cover colour because I wanted that feeling of a winter sky and having snowflakes falling across the cover really helps to conjure that. The book is packed with snowy scenes, most of them involving Belle leading Rory astray, and I love that snow became a feature of the cover.
As an author, you hear horror stories about covers where the hero and heroine bear no physical resemblance to the characters themselves but in this instance, they have captured them perfectly. I have always seen Rory as looking a bit like Jamie from Outlander but in a suit, so I'm really happy with the way he looks on this cover. Belle reminds me of a young brunette Debbie Harry and the cover does a great job of showing her as a relaxed, creative type. I love that they are on opposite sides of the street looking across at each other - which symbolises to me that as interested as they are in each other, they both have a little work to do before they can bridge that gap and have their happy ever after.
h

The book is set in Bristol and Bath and the surrounding countryside, and I'm so happy that the design highlights the Georgian features that the area is so well known for. With Belle's love of Shakespeare threaded through Every Day In December, a nod to the history of the two cities is really very cute. And of course, as a fan of all things historic, I love the inclusion of the old-fashioned lamppost and railing. In real life they make me squeal so having them on the cover makes my heart happy. It is also pertinent because one of the key scenes towards the end of the novel involves Belle taking Rory to task under the light of a streetlamp as snow is falling around them.
But my favourite bit is the tagline. I may be able to write a whole novel but distilling it into a sentence I always find tricksy. Luckily my editor has manged to capture the story perfectly. The structure of the book is that each chapter relates to one day in the month of December and Rory is preparing to fly back to Australia on the first of January so they really do only have one month in which to fall in love and I cannot tell you how much I enjoyed writing the hurly-burly, slightly daft but beautifully romantic way they got there.
* * * *
Blurb:
Two people. One month to fall in love.

Belle Wilde loves December. Yes, she's just lost her job and Christmas is not a good time to find yourself 'financially challenged'. And yes, her parents are still going on about the fact that she really should have it all together by now. But Belle believes that in December, magic can happen.
Rory Walters hates December. Whilst it looks like his life is together, he's still reeling from a winter's night five years ago when his life changed forever. Now back at home, he's certain that this will be yet another Christmas to endure rather than enjoy.
But as midnight on December 31st draws closer, Belle and Rory's time together is coming to an end. With a little help from a Christmas miracle could Belle find the one thing she really wants underneath the mistletoe?
* * * *
Every Day in December at Amazon
Kitty's author page on Amazon
Kitty on Twitter
* * * *
PS I couldn't resist adding this!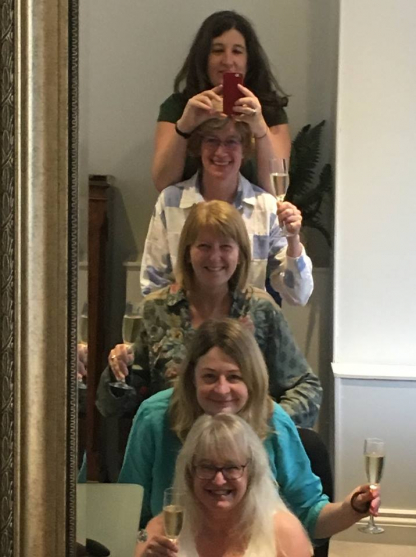 This photo was taken during a wonderful holiday in Bath - sorry, did I say holiday? I meant, of course, to say writers' retreat.
Top to bottom: Kitty Wilson, Jane Cable/Eva Glyn, Cass Grafton, Kirsten Hesketh/Poppy Cooper and yours truly. The champagne was because it was Kitty's publication day.