Wow! What a week it's been. Huge thanks to everybody who has shown support and interest in the news that I write as Maisie Thomas. I love writing The Railway Girls series. As you know, this isn't my only series - I have The Surplus Girls 1920s series too.
Something I've been asked a number of times this week is how I tackle writing a series, so today I'm happy to share some of my experiences with you. If you're a reader, I hope you'll enjoy the glimpse of the process behind the stories and if you're a writer, I hope you'll find something useful that helps you in your own work.
* * * *
Writing a Series
It's all in the planning!
When I start writing a book, I have not just an overall synopsis but a thorough scene-by-scene plan beside me. For me, this keeps the writing flowing. Moreover, because each of my books is written from the viewpoint of different characters (three viewpoints in each Railway Girls book; four in The Surplus Girls books), it ensures that each plot is of roughly equal size and is spaced out evenly across the story.
I also have an overarching plan that looks ahead to future books. In the case of The Surplus Girls, this was very highly detailed. Before I wrote a word of book 1, I produced a 25-page synopsis of the whole series. What difference did this make? Well, for example, a very small plot-point in The Surplus Girls, book 1 in the series, became a major plot-strand in book 3, Christmas with the Surplus Girls. It was only possible to have that plot in Nancy's story in book 3 because I'd sown the seed in Belinda's tale in book 1. There's no such thing as too much planning!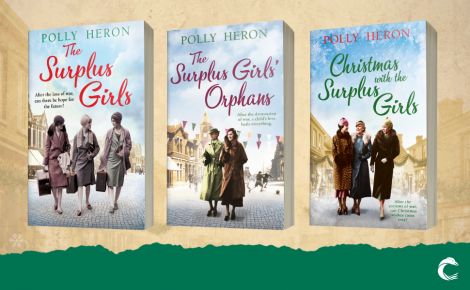 The importance of the stand-alone novel.
This is an essential part of producing a series. Each book has to lead into the next, but it also has to be complete in itself. The reader mustn't be left with a sense of irritating loose ends, but with the satisfaction of a story well-told and perhaps with a sense of openings that could lead to new plot-lines in future books.
Sometimes as a writer, you can be sneaky! I like to end a plot within a book in such a way that the reader feels that sense of completeness and has every reason to believe that this particluar plot-line is all done and dusted, when actually I know that it isn't. I'm thinking now of a plot in a book I finished earlier this year. My editor helped me to complete one of the plot-lines in a way that the reader would find satisfying; then she pointed out that if I added a certain thing to it, that would tie up every single possible loose end...
To which my reply was, "Wouldn't it be better to leave that teeny-tiny, almost invisible loose end dangling, so that in a later book, there is the possibility of turning it into a big plot-point and a new story-line with all its challenges for certain characters?"

When you're writing a series, you always have to think ahead. In other words - there's no such thing as too much planning!
I hope you've found this interesting. If you're a fellow writer, maybe you found something useful in it. Or maybe you are a committed pantster and the thought of all that planning horrifies you! Not all that long ago, it would have horrified me too. Does that surprise you?
Happy reading and writing, everyone.
Susanna / Polly / Maisie xxx