| | |
| --- | --- |
| This has been a special week for me. Five years ago, on June 22nd 2017, The Deserter's Daughter, was published. | |
Five years on, and with twelve books now out there and more in the pipeline, it's lovely to look back on how it all started.
Here I am opening my very first box of author copies, which arrived a couple of weeks prior to publication day. I wore that silly grin all day long! This photo made my editor laugh - she said Alf was letting the side down by not looking interested.
And on publication day itself, my friends presented me with a marvellous bouquet, including an S in pink roses, some cotton-wool 'flowers' made by the florist (cotton = Manchester, the setting for the story), all housed in a genuine 1920s mixing-bowl to reflect the time the story takes place.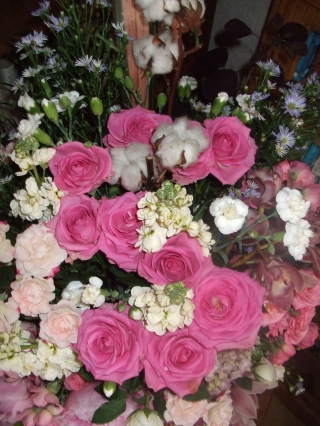 Here are a few of the reviews that I'm especially proud of:
"A strong and powerful family saga which kept my attention from start to finish." (Jaffa Reads Too)
"Powerful, complex... a delicious saga and an excellent read for fans of historical famiy novels featuring strong female characters." (Norther Reader)
"What a corker of a saga it is! ... At one point I was holding my breath and eager to turn the page to read what heppened next." (Boon's Boocase)
"Nuanced, believable characters... along with an absorbing and colourful narrative." (After the Rain)
Here is The Deserter's Daughter on Amazon.