It is a huge pleasure to show you the cover of the forthcoming Surplus Girls book, New Beginnings for the Surplus Girls. Isn't it gorgeous? The designer is Justinia Baird-Murray at Head Design.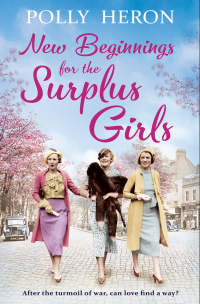 h
New Beginnings for the Surplus Girls can be pre-ordered from Amazon here. The Kindle price is £2.39 and the paperback is £7.99. If you order in advance and then the price goes down before publication, you will pay the lowest price.
h
Blurb:
Manchester, 1923. Jess Mason is determined to make her own way in the world. When she's appointed manager for Holly Lodge, a new home for old soldiers, she must convince the owner that she can run things just as well as any man - if not better.

To everyone around him, Tom Watson seems a cheerful and sociable man, but he has secretly vowed to go through life alone. However, when he takes on the renovation of Holly Lodge and meets Jess, the walls he has built around himself start to crumble.

As the opening of the new soldiers' home proves to be less than straightforward, Jess must fight tooth and nail to hold on to her precious new role. And with her affections for Tom growing stronger by each day, she can't help but wonder if there is room in her life for both love and the career she's always dreamt of.