This week I am delighted to share my review of The Collaborator's Daughter by Eva Glyn, whom you may also know as Jane Cable.

To give you a taste of the story, let's start with the blurb:
In 1944 in war-torn Dubrovnik Branko Milisic holds his newborn daughter Safranka and wishes her a better future. But while the Nazis are finally retreating, the arrival of the partisans brings new dangers for Branko, his wife Dragica and their new baby…
As older sister to two half-siblings, Fran has always known she has to fit in. But now, for the first time in her life Fran is facing questions about who she is and where she comes from.
All Fran knows about her real father is that he was a hero, and her mother had to flee Dubrovnik after the war. But when she travels to the city of her birth to uncover the truth, she is devastated to discover her father was executed by the partisans in 1944, accused of being a collaborator. But the past isn't always what it seems…
* * * *
h
As always, Eva Glyn has produced an intriguing and absorbing story, impeccably researched and written with warmth, honesty and deep compassion.
As always, she has created a wonderful sense of place. Her descriptions are vivid and colourful, capturing the essence of each place so thoroughly that you will feel yourself transported there. The ability to create geographical locations on the page is one of her great skills.
As always, there are characters to care about - fully rounded people from two different places in time, brought together by Fran, who is attempting to uncover the truth about her father. The story moves easily and confidently between the two times, 1944 and 2010. Fran herself is an endearing character, who learns a lot about herself as she comes to terms with the various truths of her life.
Above all, as always, the reader is in the hands of an excellent, gifted storyteller who never disappoints.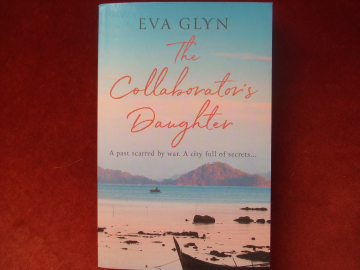 * * * *
The Collaborator's Daughter on Amazon.