As I write this blog on 21st September, it is publication day for Cass Grafton's new novel, New Dreams at Polkerran Point, which is book 1 in a series of five contemporary romances which will be published by Canelo.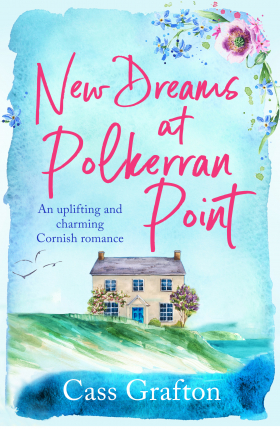 Here's the blurb:
A surprise inheritance will open the doors to her future, and also the past…
When Aunt Meg leaves her cottage to Anna Redding in her will, Anna immediately packs up and heads to Polkerran, the Cornish fishing village where she was so happy as a child.
With ambitions to turn the cottage into a B&B, a job working for the enigmatic historian, Oliver Seymour, and the return of her childhood crush, Alex Tremayne, it seems the stars have all aligned for Anna.
But Aunt Meg left behind a mystery for her to solve, and a shock discovery reveals she may be living a dream that isn't really hers to hold. Can Anna rescue the new life she's made for herself? Who in Polkerran can she really count on in her time of need?
* * * *
This book was originally published as The Cottage in the Cornish Cove.
Here are the links:
New Dreams at Polkerran Point on Amazon
Cass's author page on Amazon