I'm delighted to tell you that Christmas with the Railway Girls, book 4 in the series, is currently 99p on Kindle.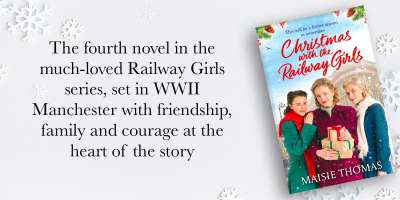 I loved writing this book. Well, I love all the books, of course, but this one was special because it was so lovely to have three new viewpoint characters. In books 1, 2 and 3, Alison, Colette and Cordelia were only ever seen through the eyes of Joan, Dot and Mabel, who were the viewpoint charcters in those three books, so it was interesting and a great pleasure to see the world through fresh eyes and let my readers into the private lives of Cordelia, Colette and Alison.
I receive a lot of messages concerning Colette's story and I feel touched to know that her tale resonates with so many people.