I'm writing this on publication day and I'd like to say a huge thank-you to all of you who pre-ordered Christmas Wishes for the Railway Girls. I hope you're all going to love finding out what happens next to the girls.
h
h
The three viewpoint characters are (left to right on the cover) Margaret, Alison and Joan. It the second half of 1943 and, much as she loves her little boy, Joan longs to return to work as a railway girl and carry on doing her bit for the war effort. Meanwhile, Alison is looking forward to a happy future... but the past is about to catch up with both her and Margaret.
I have a couple of publication day photos to share with you.
First, here are my publication day flowers. Aren't they beautiful?
h
And next, just look at these little beauties! They were sent to me by my good friend Cass Grafton, who said she was aiming for a gift "that said Christmas and railways and women"!!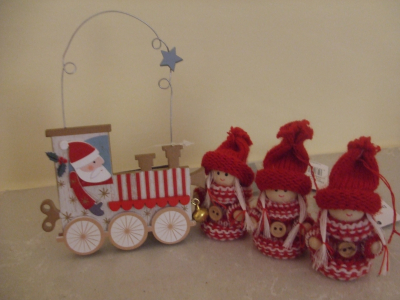 h
h
I'm also happy and proud to share with you the first review, which appeared on Amazon first thing this morning from Booklover Bev, who had a pre-publication copy.
h
She says:
"Inspiring, magical, perfect for the season, the author has once again giving readers a wonderful read to be cherished."
h
Wow! Isn't that wonderful?
h
Thank you to everyone for making today special for me.