A question I get asked in my guise as Maisie is:
Why did you pick the railways as the war work the girls did?
The simple answer is that someone else made that decision. Cassandra di Bello, who was a commissioning editor with Penguin, thought up the idea of women working on the railways and then needed an author to write the series for her. She rang my agent, Laura Longrigg, to see if Laura had anyone suitable and Laura suggested me.

She sent Cass a pre-publicaton copy of

The Surplus Girls

(written as Polly Heron). Cass liked my writing style – and I got the job!
I already had a long-standing interest in WW2 and had several shelves on books on the subject. You won't be surprised to hear that I now have several more shelves. My husband has also been a big help to me, thanks to his love and knowledge of old railways. He quickly got used to answering random questions, such as 'When a steam train is going to pull out of the station, in what order do you hear all the sounds?' and 'How does a water-tower work?'. Incidentally, he is also the person who checks that the trains on the book-covers are correct.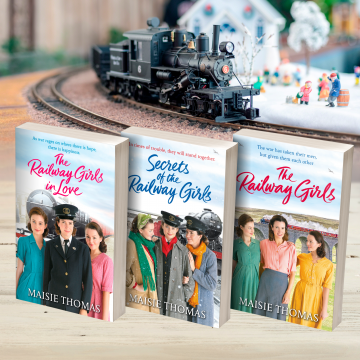 A follow-up question I then get asked is:
How did you find out what women did on the railways in the war?
I got lots of information from Female Railway Workers of World War II by Susan Major (Pen & Sword Transport, 2018). This book includes masses of oral history, which I found invaluable. It is thanks to this book that Dot became a parcels porter, Cordelia became a lampwoman, Mabel worked as a lengthman and Lizzie and Joan were given jobs as station porters.
Much of the information that enabled me to promote Persephone to the rank of ticket inspector in Courage of the Railway Girls came from How We Lived Then: A History of Everyday Life During the Second World War by Norman Longmate (Hutchinson & Co Ltd, 1971). Margaret's engine-cleaning experiences came from various sources, mainly More Tales of the Old Railwaymen by Tom Quinn (Aurum Press Ltd, 2002) and Steaming to Victory: How Britain's Railway's Won the War by Michael Williams (Arrow Books, 2014).